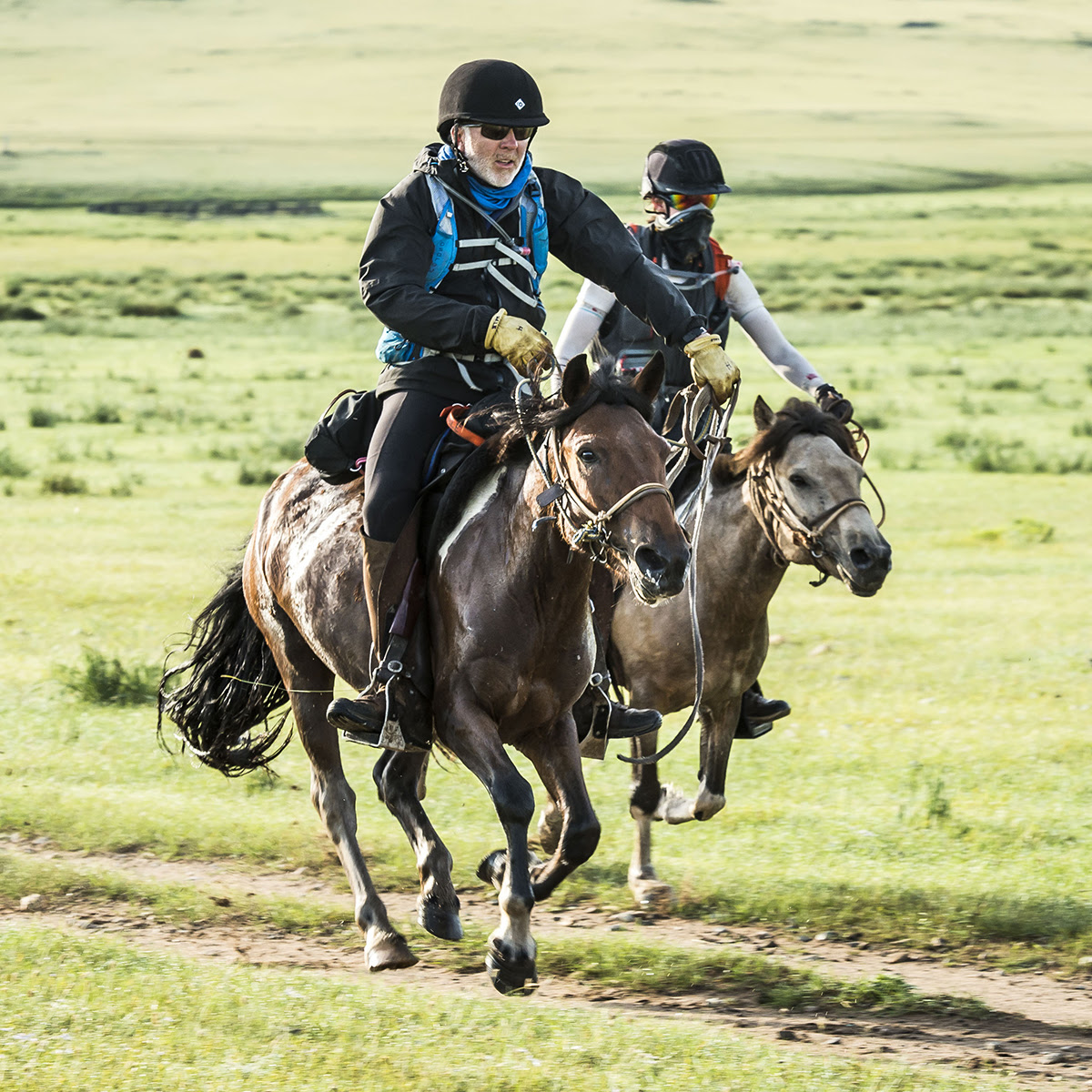 Richard Dunwoody photo
At the close of Day 5, the front thirteen riders have solidified their lead. Clustered between U17 and U18, the Derby title could be claimed by any of them.
In Urtuu 18 tonight are the front pack: Venetia Philips, William Comiskey, Tatiana Mountbatten, Courtney Kizer, Heidi Telstad and Marcia Hefker-Miles. Of those, Courtney Kizer is currently carrying a 2 hour vet penalty. If the other five don't pick up any further penalties, she alone will be held at Urtuu 21.
Shortly behind them, camping on the steppe is Australian rider Shannon Nott. He began the day with Courtney Kizer and Marcia Hefker-Miles but was delayed when he lost his horse. He requested Derby assistance to retrieve it and rode on with the hour's penalty. He finished the day with an astounding 9 minute turnaround at Urtuu 19 before riding on. Clearly he's determined to catch up.
Bedding down at Urtuu 17 tonight, are the trailing pack of six: Camille Champagne Bargenquast, Alice Newling, David Redvers, Alexandra Hardham, Peter Molony and Marie Griffis. With the Urtuus only 40kms apart, if any of the leading thirteen riders pick up vet penalties from now onwards. It could push them out of the final top ten.
In the back of the field, Day 5 saw some retirements. Babs Ketelaar was retired on medical grounds after showing no improvement on yesterday. Chase Becker is also out. She had a tricky fifth day chasing after an escapee horse at Urtuu 11, but a troublesome ankle injury has worsened. Fahad Al Thani has retired. He's received two carry forwards, each have a 3 hour penalty meaning he's well out of the running for the Race Class. After a bruising fall today, he has decided to call time on his Derby at Urtuu 11.
Day 5 has proved to be exceptionally unlucky, as a further three riders are retiring on medical grounds. Household Cavalry team-member Tom Alden is out after a fall near Urtuu 11. He's been evacuated for assessment in hospital in Ulaanbataar. Adam Casey has retired at Urtuu 12. He endured three brutal falls yesterday and after a short ride today, he's also on his way to UB this evening for a thorough medical evaluation. Finally, Veteran jockey, Chips Broughton has also retired. 20kms after Urtuu 14 he suffered a crunching fall and sought shelter in a local house. He's been assessed by Derby medical teams and he's unfit to ride onwards.
Day 5 finished with a Race Hold at imposed at 6.45pm. Any riders who came into an Urtuu in the final 1 hour and 45 minutes were held there as medical teams were engaged and couldn't guarantee cover for the field. We expect to open the course again Tuesday at the usual time of 7am UTC.
All the riders are being tracked live. Find out all the ways you can follow the race on the
Live Tracking Dashboard
.
We'll be back on Tuesday 9th August with the best photo and updates from Day 6. Until then, here's the
Day 5 Leaderboard
and a reminder of the
2016 course
.