Filly Bella (L) and Oopus (R)
Estonia: Haanja – the first international CEI2* endurance ride in Estonia.
The first international FEI endurance riding competition sponsored by the riding pro of United Arab Emirates Mr Ali Mohammed Al Muhairi was held in Estonia on 21-22-23 May 2010.
For many years Heigo and Anne Rohtla have hosted Estonian National Championships in endurance at Haanja, Kurgjärve. Fortunately, in this year with the help of Mr Ali Mohammed Al Muhairi it was also possible to organise the first FEI endurance competition in Estonia.
Haanja Upland, which is located in the South-Eastern corner of Estonia, is famous for its hillock landscape and for the nature preserved in its natural form. Moreover, Mountain Suur Munamägi (318m), the highest peak of Estonia and the other two Baltic countries Lithuania and Latvia is located in the middle part of Haanja uplands. Haanja with its diverse terrain was certainly the best place for arranging an international endurance competition in Estonia.
All together twenty-three riders from six countries Finland, Poland, Sweden, Lithuania, Norway, and Estonia were represented. Unfortunately, neither the main sponsor of the event Mr Ali Mohammed Al Muhairi nor Kaja Tuisk who was supposed to ride with the winning horse of CEI2* made it to the competition due to the air traffic disruptions caused by ash clouds from Iceland.
At course meeting on 21st May the president of the Ground Jury Alexander Andrievsky from Russia reminded all the riders that endurance is not racing and emphasised, "Who start very quick will end very soon. In endurance to finish, means to win."
In the morning of 22 May twenty-two riders started competing in six different categories over distances of 120km and 80km. The weather was hot for May in Estonia, up to 26 degrees above Celsius. The first start for CEI2*, CEIYJ2*, and the Estonian National Championship over the distance of 120km was given at 6 a.m. CEI1* and CEIYJ1* over the distance of 80km started at 7 a.m. and thirty minutes later the riders set to a National Distance of 80km. Altogether only three horses failed from twenty-three.
CEI2* 120 km was won by Virge Laur (Estonia) with Filly Bella in total time of 7hr14 min14sec at an average speed of 16.6 km/h who also received the Best Condition award.
CEIYJ2* 120km with only one participant in the category was won by Kairit Kalbre (Estonia) with Baltimor in a time of 7hr50min07sec at an overall speed of 15.3 km/h.
The Estonian National Championship of 120km was won by Marian Kikas with Oopus. Oopus may be considered to be an outstanding horse in endurance as Oopus is of Tori breed originating from continental Estonia and therefore very important for Estonians in addition to the Estonian Native horse. Marian and Oopus covered the track in total time of 7hr14min13sec equal to the winning time of CEI2* Filly Bella at an average speed of 16.6 km/h.
CEI1*80km was won by Olaug Espeli Carstensen (Norway) on a 20 years old Al Thaka Mellemgaard in total time of 5hr19min17sec at the overall speed of 15 km/h and who also received the award for the Best Condition.
CEIYJ1* 80 km with only two participants was won by Ieva Lapeikyte (Lithuania) with Sultonas in total time of 5hr53min58sec at the overall speed of 12.9 km/h and they also received the award for the Best Condition.
The National Distance of 80km was won by Egle Kalev on Frank-Fränk in total time of 6hr6min55sec at the overall speed of 13 km/h.
The riders and their teams had only best words for the organisers – the event was very well organised. Therefore, in the name of the Estonian Endurance Riding Team we would like to thank all the organisers, sponsors and participants for making this first international endurance competition to happen in Estonia and we hope to see you again next year!
Karoline Aun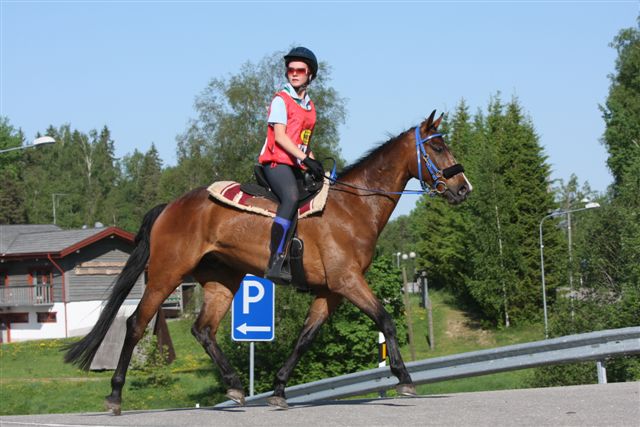 Kairit Kalbre and Baltimor
See more photos from the ride here:
http://fotoalbum.ee/photos/SannaT/sets/986751