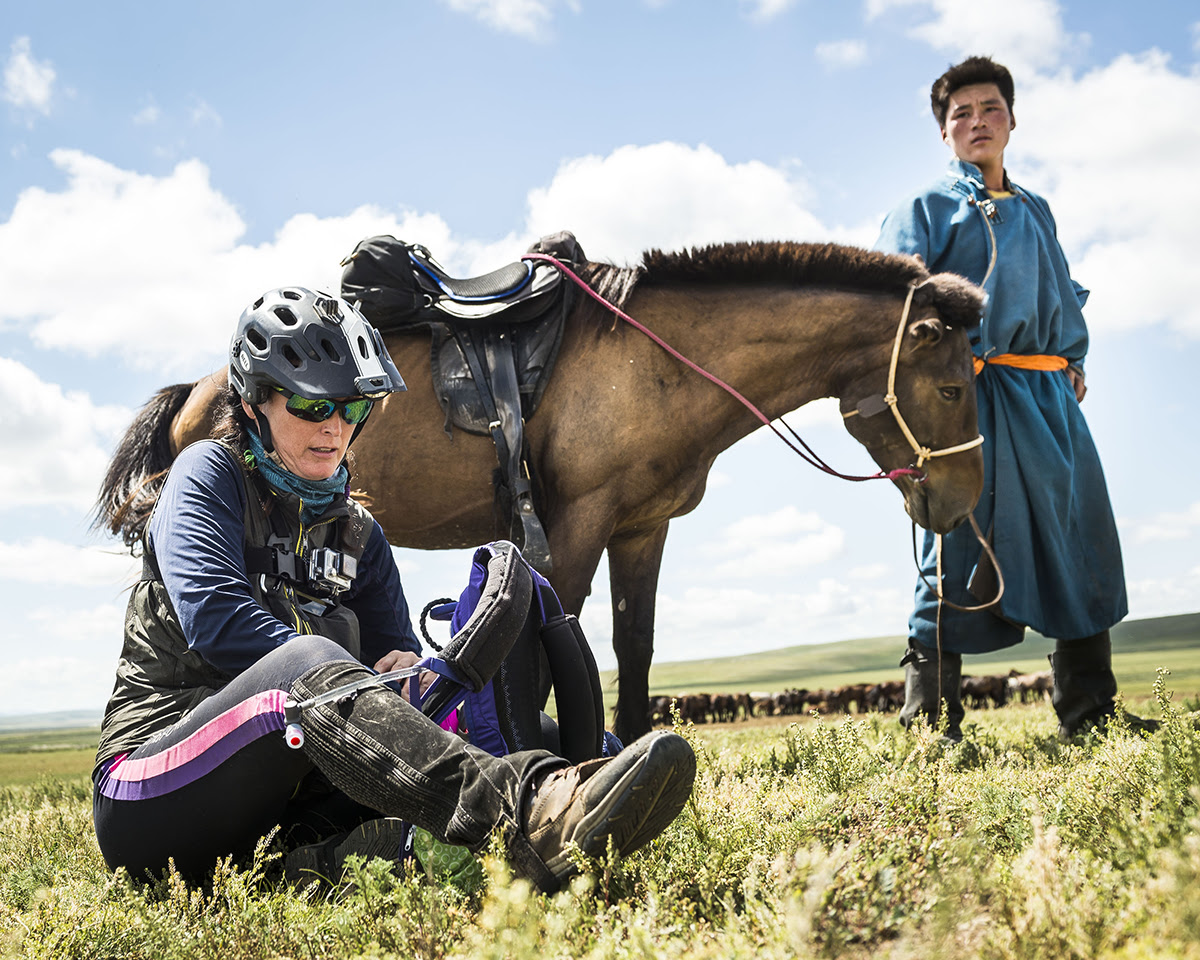 US rider Marcia Hefker-Miles repacks her backpack at Urtuu 5

Photo by Richard Dunwoody
Day 2 of the Mongol Derby 2016 is done and the leaderboard looks totally different.
The race saw its second retirement from UK rider and former professional jockey Kevin Darley, defeated on this occasion by bad knees.
At the front of the field, Venetia Philipps and Tatiana Mountbatten (Team Riding for Rangers) are camping out with fellow Brit Alexandra Hardham and Aussie Shannon Nott. With Alexandra and Tatiana carrying 2-hour penalties each, the 4 ladies will be faced with a choice at Urtuu 11; to wait together and risk losing their lead or separate and hope they can regroup later. Yesterday's front-runners William Comiskey and Heidi Telstad are still riding together but have slipped down the ranks, proving how quickly fortunes can change on the Steppe.
Across the rest of the field multiple riders are getting thrown off their horses. US rider Marie Griffis is choosing a series of outstanding horses from the line ups, and it's been paying off as she's made good progress up the ranks. Choosing live-wires has drawbacks and on the third roll of the day she sustained an injury. She finished the day at Urtuu 6 with a bit of a hobble, helped along by her current riding companions Rosie Bathurst and Alice Newling. With luck, the three of them might have a dryer nights sleep than last night. Attempting to camp in a goats pen, they were caught in a downpour before they were rescued by local herder family and treated to multiple samples of the local vodka to warm up. Tonight, they'll be sleeping with seventeen other riders at Urtuu 6. Space may be more of a issue than the weather this evening.
Sebastian Bridger also met the ground more often than planned today. He was bucked off three times between Urtuu 4 and 5 before accepting a carry forward from the race team which comes with a 3 hour race penalty. Of the five Household Cavalry team, only James Harbord and Urbain Tego Tagne are currently riding without penalties. They too will have to decide at Urtuu 11 whether to sit out the penalties as a team or to split into two factions forming a breakaway penalty-free group.
The riders are being tracked live. Find out all the ways you can follow the race on the
Live Tracking Dashboard
.
We'll be back on Saturday 6th August with the best photo and updates from Day 3. Until then, satisfy your Derby appetite with our
Rolling News
. A single post with all the Derby pictures and updates since the race began or read the explanation of the
Derby penalty system
.