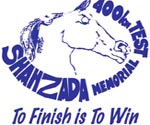 August 26 2016
After building a 1 1/2 hour lead on Day 4, Melissa Longhurst and Pioneer Park Wings of Sudan won the 2016 the Shahzada in a combined time of 38:56 for the 400 kms over 5 days. Clare Feary and Die Kinder Junrei came in second, with a time of 42:37. Gary Pevy and Halimas Esdikam were third in 43:42.
Of the original 45 starters, 22 finished all 5 days.
Winner of the 3-day 120-km Mini-Marathon on Thursday was Elizabeth Moir, riding Coolahlee Park Shaman in a total time of 14:35. Of the 103 starters, 69 completed all 3 days of 40 km.
For complete results, see
http://www.shahzada400.com/