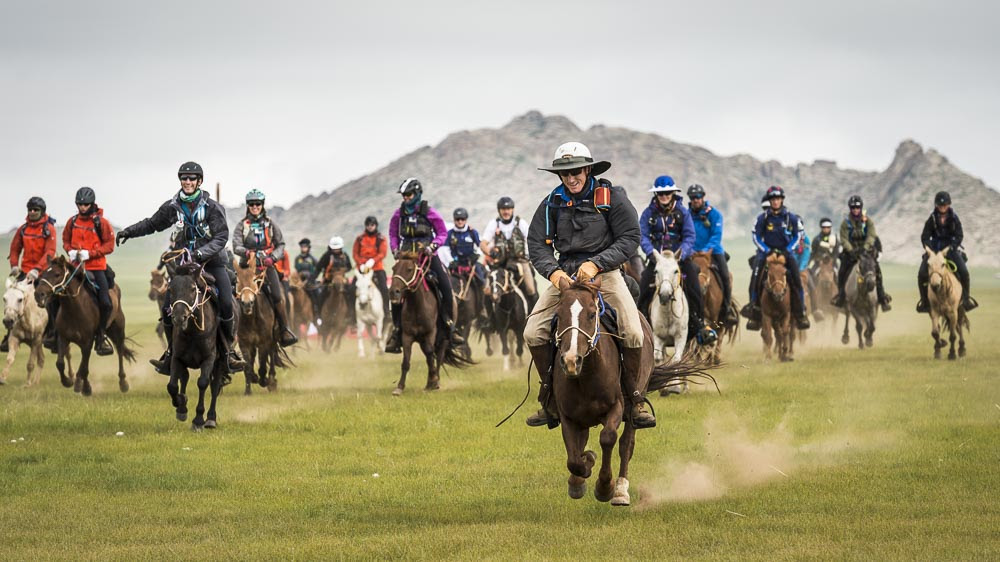 Richard Dunwoody photo
Theadventurists.com
The Mongol Derby is live. Forty-one riders made it to the start-camp and the Race has whittled their number to forty.
At the close of Day 1, the early race leaders are Heidi Telstad and William Comiskey. She's a lawyer from Canada, he's a cattle herder from Queensland. They are perhaps not the most obvious team in the group. It remains to be seen if they will still be riding together when dawn breaks.
August 4, 2016 Mongol Derby
At the close of day 1, we've got a record number of campers. Of the six riders who came first into Urtuu 3, five went out again to try in the hopes of getting a head start in the morning. Only Hanna Backstom decided to stay put: warm dry and catered for. She will likely get a better nights rest, but she'll be competing with the stragglers who joined her at U3 before the course closed. Meanwhile, the five riders who chose the open steppe will be camping in the rain. Will the risk pay off and, perhaps more pressingly, will their horses still be there? The morning saw the first retiree from Loden Burton.
From the front then, here's the Day 1 Leaderboard:
Between U3 and U4
Heidi Telstad
Will Comiskey
Venetia Philipps
Tatiana Mountbatten
Tim Finley
At or Near U3
Alexandra Hardham
Shannon Nott
Hanna Bäckström
Courtney Kizer
Kelly Hale
Fred Thorne
Anna De Jonquieres
Marcia Hefker-Miles
Adam Casey
Francisco Schnaas
Madison Smith
Between U2 and U3
Krista Donnelly
Peter Molony
David Redvers
Marie Griffis
Alice Newling
Rosie Bathurst
Charles Broughton
Sara Pickthall
Anthony Strange
Carin Ostergren
Gareth Jones
Camille Champagne Bargenquas
Pierce Buckingham
Kevin Darley
Josefine Schopman
Thomas Alden
Cochetta Crowley
Sebastian Bridger
Urbain Tego Tagne
James Harbord
Babs Ketelaar
Between U1 and U2
Mike Becker
Chase Becker
Julia Stewart
Retired
Loden Burton
Get the full
Day 1 Leaderboard here
.
All the riders are being tracked live. For all the ways to follow them, head to the
Live Tracking Dashboard
.