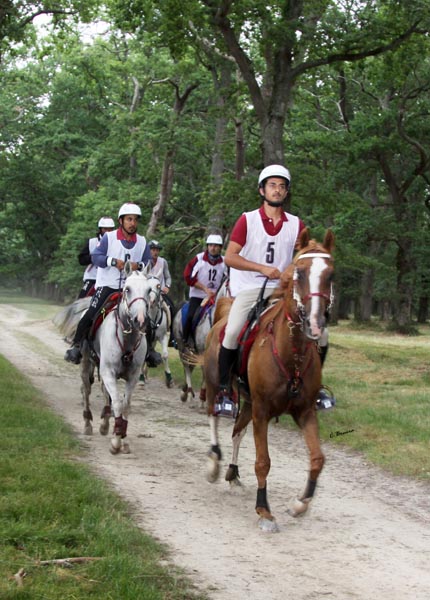 Doha, Qatar - The Al Shaqab Endurance Team will represent the State of Qatar at the prestigious World Equestrian Games in Lexington, Kentucky, USA, on Saturday, Sept. 26.
The five-member team will compete in the 160km race over varied terrain to vie for the title of World Champion Endurance team against 26 teams and a total of 162 nominated competitors from all over the world.
The World Equestrian Games are the official world championships competitions for the eight equestrian disciplines recognized by the Federation Equestre Internationale (FEI), which is the world governing body of equestrian sport. The championship disciplines consist of Show Jumping, Dressage, Para-Equestrian Dressage, Eventing, Driving, Endurace Racing, Vaulting and Reining.
The Al Shaqab Endurance Team is the reigning Silver Medal winning team from the World Endurance Championships that are held every two years and most recently in Malaysia in 2008. This marks the first time the team has competed in the United States and their fourth consecutive appearance in the World Championships.
The five Al Shaqab riders who will participate on the Qatar team are Faleh Nasser Bughenaim, Mohammed Tahous Al Naimi, Abdul Rahman Al-Sulaitin, Jassim Mohammed Al-Maadhadi and Mohammed Sultan Al Suwaidi. Bughenaim, a veteran rider from the 2008 Silver Medal team, who finished 12th individually in the World Championships, scored three wins over the summer in Uruguay and France. Al Naimi is a 13-year veteran of the Al Shaqab team who competed on the Silver Medal team and is the oldest competitor on the team at age 31. Al Sulaitin earlier this summer won a 160km CEI*** race in La Baguala, Uruguay. Al Maadhadi brings a win from the summer campaign from the CEI** 120km race in Negrepelisse, France. Al Suwaidi did not ride in 2009 due to college studies, but has returned to the team in 2010 with solid performances and top five finishes in the past three races in England, France and Uruguay.
The Al Shaqab team representing the State of Qatar is led by Chef d'Equipe Fahad Saad Al Qahtani, Director of Al Shaqab, manager and trainer Hadi Nasser Al Naimi, assistant trainer Jabr Nasser Al Naimi, and assistant trainer Abdul Aziz Saleh Al Jabir.
His Highness, The Emir, Sheikh Hamad bin Khalifa Al Thani founded Al Shaqab in 1992 to preserve and further develop the Arabian horse in Qatar. Al Shaqab is led by H E Sheikh Mohammed Bin Hamad bin Khalifa Al Thani and encompasses an Endurance Team, Breeding & Show division, Riding Academy. In 2004, Al Shaqab proudly became a member of Qatar Foundation. Al Shaqab's mission is to promote the highest standards in the breeding and showing of Arabian horses and serve as a community resource with innovative, educational and competitive opportunities in all of the equestrian arts.
Top photo: Following a summer campaign in France (pictured) and Uruguay, the Qatar Endurance Team will compete in the World Endurance Championship this Sunday in the United States.