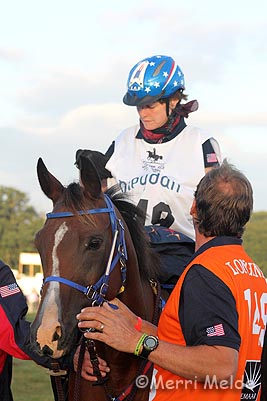 August 18 2014
by Merri Melde-Endurance.net
To truly understand the definition of a classy endurance competitor who successfully embraces not only the challenges of high level international competition, but the epitome of the laudable AERC endurance attribute of career longevity, one needs look no further than Meg Sleeper and Syrocco Reveille.
Veterans of both USA endurance rides and numerous World Endurance Championships, both rider and horse bring a bounty of experience to the USA team for the Endurance Championship at the
2014 World Equestrian Games in France on August 28th.

With AERC statistics of 27 completions in 28 starts, 11 of 12 100-mile completions, 5 wins, twenty Top 10 finishes, almost 2000 miles, and 8 Best Condition awards over 10 seasons, 14-year-old Syrocco Reveille (a purebred Arabian by Rimmon - Edgewood Schelite by Blackburne Charal) has a record any USA endurance horse would envy. However, her success goes far beyond resilience and good management. Reveille carries her durability and toughness to the highest level of competition on the world stage for the third time in her storied career.
Reveille and Meg first competed together in a World Endurance Championship in Malaysia in 2008 when Reveille was 8 years old. The pair was riding with fellow team members Jan Worthington and Golden Lightning when, near the end of loop 2, the foursome was nearly struck by lightning on course. "I saw the bolt of light and sparks all around us," Meg later wrote. "The thunder clap was immediately after and both horses bolted. Unfortunately, Leon bolted into Rev and pushed both horses out into the jungle. We hit a tree, and both horses went down and rolled." Due to the wreck, Reveille was pulled for lameness at the next to last vet gate. (Jan and Golden Lightning completed the race but were pulled at the finish line for lameness.) The hardy mare bounced back, returning to her winning form next season, winning the 2009 AHA 100-mile championship with Meg in Oklahoma.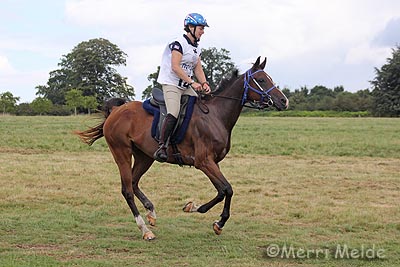 Flash forward to the 2012 World Endurance Championship in Great Britain, and you'll find Meg and Syrocco Reveille finished 11th (just one second behind 10th place), the highest finish for a USA rider since 2000, (when Connie Walker finished 11th at Compiegne on DML Smoke Silver), with a completion time of 7:49.11. Reveille shows another sub-8-hour 100 miler on her record, a win and Best Condition in the March 2010 FITS ride in Florida, in 7:44.
With over 12,000 AERC miles, and having ridden in 76 AERC 100-mile rides (with 66 completions), 46-year-old Meg Sleeper of Frenchtown, New Jersey, is not only a seasoned endurance rider, but with making the USA team for the 7th time - all on home-breds - she's a top class international competitor. Meg was an alternate for the USA team in 2002 in Spain, made the team for Dubai in 2004 (although she didn't ride), finished 22nd in Germany in 2006 on Shyrocco Troilus, rode Reveille in Malaysia in 2008, competed on Syrocco Harmony in Kentucky in 2010, and finished 11th on Reveille in Great Britain in 2012.
"It's a really special bond you get with the horse that's different than any other," Meg says about riding endurance. "One of the things I love about endurance is it's not just about just going as fast as you can… It's about actually figuring out the trail and the weather environment and everything that you get that particular day, and then making your best effort for those hurdles you have that day."
That Meg and her husband Dave Augustin bred, raised and trained Syrocco Reveille makes the experience all the sweeter. They've been breeding their own horses for close to 25 years; Shyrocco Troilus was the first homebred Meg competed on in a World Endurance Championship. He's 22 now: "We don't sell many; they do kind of become family members," Meg says. It's a testament to her riding experience, and her profession as a veterinary cardiologist, that she's had long careers with her home-bred horses, even at the highest level of competition.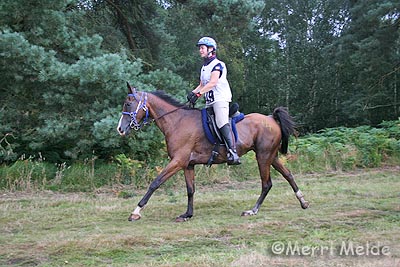 Meg is confident of the USA's goal of a Team Medal, and of Reveille's potential in France. "She's done several rides in under 8 hours, so I think, assuming everything goes well and she's on, she's done that speed before, and if she can just do it again, it'll be one of the times we need to hopefully get that gold medal."
Above photos are of Meg and Syrocco Reveille in the 2012 World Endurance Championship in Great Britain
For more coverage of the Endurance Championship at the World Equestrian Games, see:
http://www.endurance.net/international/France/2014WEG/