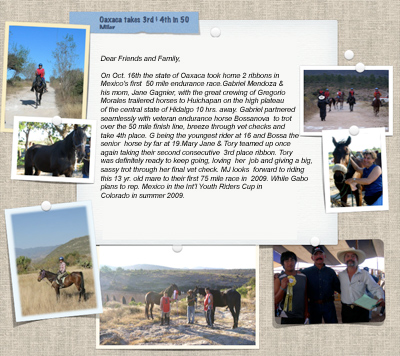 View newsletter as pdf file
Dear Friends and Family,
On Oct. 16th the state of Oaxaca took home 2 ribbons in Mexico's
first 50 mile endurance race.Gabriel Mendoza & his mom,
Jane Gagnier, with the great crewing of Gregorio Morales trailered
horses to Huichapan on the high plateau of the central state of
Hidalgo 10 hrs. away. Gabriel partnered seamlessly with veteran
endurance horse Bossanova to trot over the 50 mile finish line,
breeze through vet checks and take 4th place. G being the youngest
rider at 16 and Bossa the senior horse by far at 19.
Mary Jane & Tory teamed up once again taking their second consecutive
3rd place ribbon. Tory was definitely ready to keep going, loving her
job and giving a big, sassy trot through her final vet check. MJ looks
forward to riding this 13 yr. old mare to their first 75 mile race in
2009. While Gabo plans to rep. Mexico in the Int'l Youth Riders Cup in
Colorado in summer 2009.