Gulf News article
By M. Satya Narayan, Senior Reporter
Published: February 14, 2008, 00:45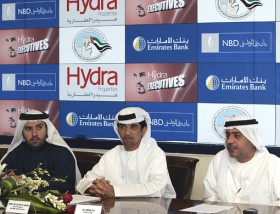 (photo: Ravindranath/Gulf News)
Lara Sawaya, Managing Director, Tasweeq, Dr. Sulaiman Al Fahim, Adnan Sultan Al Nuaimi and Ali Mohammad Ali at a press conference to announce the His Highness President's Cup Ride at Abu Dhabi Equestrian and Racing Club yesterday.
Abu Dhabi: Shaikh Hamdan Bin Mohammad Bin Rashid Al Maktoum, Crown Prince of Dubai, and Shaikh Mayed Bin Mohammad Bin Rashid Al Maktoum are expected to be part of a 100-strong line-up for the Dh1.5 million His Highness The President's Cup endurance ride on Saturday.
The 160-km FEI CEI three-star ride will be held at the Emirates International Endurance Village in Al Wathba and is sponsored by Hydra Properties and Emirates National Bank of Dubai.
Apart from Shaikh Hamdan and Shaikh Mayed, the strong UAE representation includes Shaikh Abdullah Bin Faisal Al Qasimi, Shaikha Madiya Hasher Mana Al Maktoum, Sultan Bin Sulayem, Hassan Bin Ali, Ali Mohammad Al Muhairi, Rashed Salem Bin Ghadayer, Yousuf Ahmad Al Beloushi, Omair Hussain Abdullah Al Beloushi, Abdullah Khamis Ali Saeed and many other top riders.
His Majesty Tuanku Mizan Zainal Abidin, the King of Malaysia, is part of a very strong list of foreign riders, many of whom will be using the event to prepare for the World Endurance Championship, to be held in Malaysia later this year.
Top American riders John Crandell and Katherine Brunjes along with Stephen Rojek, Australia's Meg Wade, Dubai-based Spanish husband and wife pair of Jaume Punti Dachs and Maria Alvarez Ponton, French stars Virginia Atger, Philippe Benoit and Marlyn Lemoine are also in the fray.
Adnan Sultan Al Nuaimi, Director General of Abu Dhabi Equestrian Club, said: "The total prize money on offer is Dh1.5 million. In addition, the winner will also receive a car. Cash prize will also be given to the best conditioned horse award winner."
Dr. Sulaiman Al Fahim, CEO of Hydra Properties, said: "Hydra Properties has been in the forefront in sponsorship of various community events including sport, but this support for The His Highness The President of the United Arab Emirates Cup is a moment of great pride .
"Last week Hydra Properties sponsored the His Highness The President's Cup for Juniors and we were very happy to see some of the most promising youngsters display their skill in endurance, a sport which is part of our culture and heritage."
Ali Mohammad Ali, Regional Manager, Abu Dhabi, Emirates NBD, who also addressed the press conference, said: "This is the year that we are involved with the His Highness President's Cup. It is an honour for us to be among the sponsors of this prestigious event, which is taking the local and regional equestrian sport to an international level."
Saturday's ride gets off to a mass start at 6am and will be run in six loops of 34, 32, 30, 24, 24 and 16 kms.