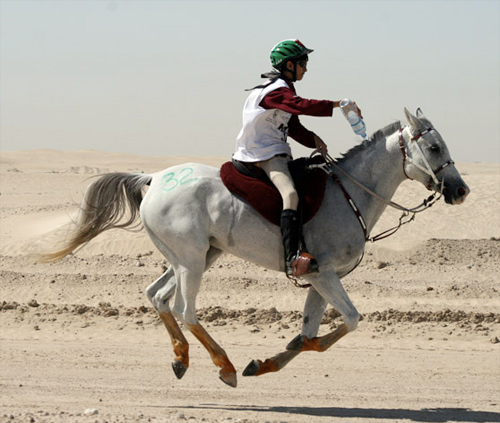 Al Hammadi and Nadja Lotoise on the trail. photo by Steph Teeter, www.endurance.net
Press Release, UAE Equestrian Federation, February 10
Hamdan Mousa Mohammad Al Hammadi won the His Highness The President of the United Arab Emirates Cup for Junior and Young Riders at the Boud Theib Endurance Village in Al Khatem on Saturday, February 9, 2008.
He was riding 11-year-old grey mare Nadja Lotoise, owned by UAE Deputy Prime Minister Sheikh Sultan bin Zayed Al Nahyan, to clinch the coveted ride and finished the distance in four hours, 48 minutes and 15 seconds.
The ride which was sponsored by Hydra Properties was flagged off in the early morning at 6.30 am with 44 riders. The 120-km FEI.CEIJY three-star was run in five phases of 30 km, 30km, 24 km, 20 km and 16 km respectively.
Second place went to Rashed Ajmad Al Bloushi from Al Reef Stables. He was riding nine-year-old chestnut gelding Waterlea Tuppence. Khalifa Ganem Al Merri clinched the third place riding 15-year-old grey gelding Little Joe Fox owned by Sheikh Hamdan bin Mohammed bin Rashid Al Maktoum.
"I am very happy to win this prize as this is my first ever win and I have been taking part in competitions for over seven years now. Finally to win in the President's Cup is a great victory and I am very happy," Al Hammadi told the gathered media after his stupendous victory.
Sheikh Khalid bin Sultan bin Zayed Al Nahyan, CEO of Hydra Properties Dr Sulaiman Al Fahim, Emirates Heritage Club's Mohammad Saif Al Neyadi and Tasweeq Managing Director Lara Sawaya were present during the prize distribution ceremony.
The 160-km The President's Cup will be held on Saturday February 16, 2008, at the Emirates International endurance Village, Al Wathba.
Photos and coverage on Endurance.Net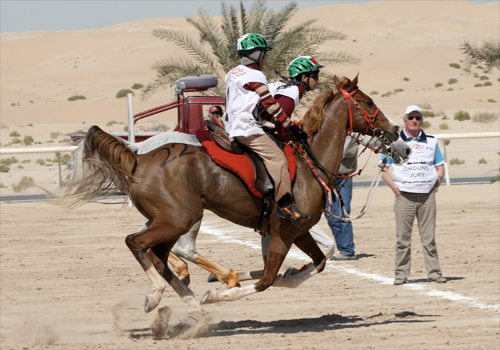 Al Hammadi on Nadja Lotoise and Al Baloushi on Waterlea Tuppence in a close finish. photo by Steph Teeter, www.endurance.net