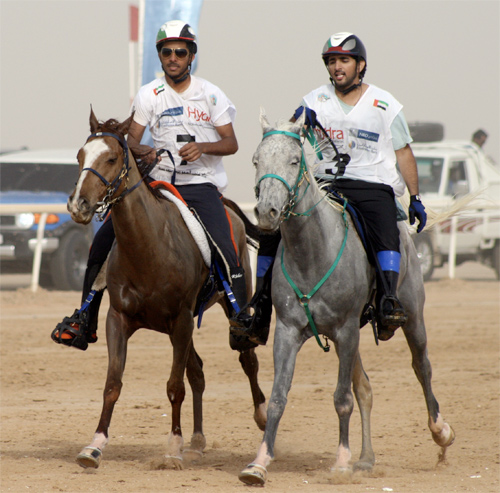 BAHRAIN Royal Equestrian and Endurance Federation president Shaikh Nasser bin Hamad Al Khalifa congratulated UAE's Shaikh Hamdan bin Mohammed bin Rashid Al Maktoom on winning the UAE Endurance Horseride Championship held in Abu Dhabi.
Shaikh Nasser praised the performance of Shaikh Hamdan throughout the race which was over 160km with more than 120 riders from the UAE and overseas in the fray.
They are from the UK, Spain, Portugal, New Zealand, France, Italy, the US, Malaysia, Russia, Uruguay, Indonesia, Oman and Bangladesh.
The race was divided into five stages with the first stage covering a total distance of 34 kms, 32 kms for the second, 30 kms for the fourth and 24 kms for the fifth.
Shaikh Hamdan completed the race with a total time of six hours, 52 minutes and 29 seconds. Behind him was compatriot Mohammed Al Sabosi (6:52:32) in second place while Mohammed Al Sabosi (6:57:24), also of the UAE, was third.
Endurance.Net Coverage