Gulf News article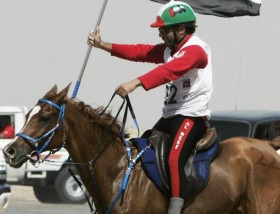 Yousuf Ahmad Al Beloushi celebrates his victory in the Shaikh Maktoum Bin Hamdan Al Maktoum Challenge last year.
By M. Satya Narayan, Senior Reporter
Published: February 23, 2008, 01:05
Abu Dhabi: Precisely a year ago, Yousuf Ahmad Al Beloushi on Cameo Zinniaa finished ahead of Spain's Maria Alvarez Ponton in the 120-km second Shaikh Maktoum Bin Hamdan Al Maktoum Challenge endurance ride at Dubai International Endurance City.
The two riders are back on the same horse for the third edition of this ride which gets off to a mass start at 6am this morning and will be joined by over 100 other riders.
While the two rider will be looking to again do well in the event, sponsored by Shaikh Hamdan Bin Rashid Al Maktoum, Deputy Ruler of Dubai and Minister of Finance, there is also another reason the two will be hoping to better each other.
In the latest FEI World Ranking (calculated up to December 2007) Maria leads with 1,784 points followed by Frenchman Jack Begaud (1581) while Yousuf is third on 1044.
Both Yousuf and Maria also completed this event in its inaugural edition in the 2005-06 season with Yousuf finishing 10th and Maria 34th.
Other top riders in the fray include Pan Arab Games Shaikh Mayed Bin Mohammad Bin Rashid Al Maktoum.
The Shaikh Maktoum Bin Hamdan Al Maktoum Challenge over 120-kms will be run in five loops of 31, 32, 27, 18 and 12 kms each. An 82-km Qualifier ride with 31 riders and a 44-km Qualifier with 35 riders will also be held today at the Dubai International Endurance Village in Seih Assalam.
The total prize money on offer is Dh550,000 which will be distributed among the top 20 who finish the ride while the winner will also drive away with a Nissan Patrol Car.
The first 10 horses finishing within one hour of the first-placed horse will be eligible to enter the Best Condition Competition while Dh 50,000 will be given away as cash prizes to the public through a free raffle.