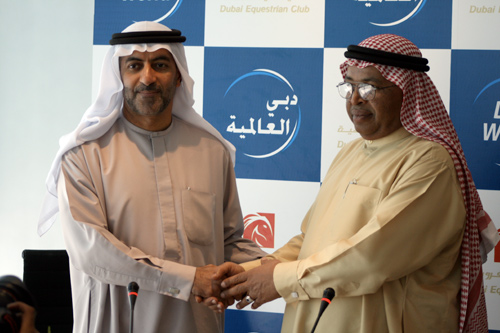 Photo: Mr. Farid Mohammed Ahmed, Secretary General Dubai World, and Mr. Ali Moosa Al Kamiri, General Manager Dubai Equestrian Club
Wednesday, January 30, 2008
Endurance.Net
The Dubai Equestrian Club is delighted to announce details of the Dubai World Challenge FEI CEI*** 120 km endurance ride to be held at Dubai International Endurance City (DIEC) on Saturday, February 2, 2008.
Total prize money for the ride is AED 550,000 and General Manager of the Dubai Equestrian Club, Mr Ali Moosa Al Khamiri said: "It is wonderful Dubai World is sponsoring what will be a fantastic occasion on Saturday.
"We are in the heart of the endurance season, and standards within the UAE are at an all time high right now.
"We expect some quality entries and due to the increasingly high speeds of these races, leading riders will be hoping to set new world records, which should make for exciting viewing.
"The Dubai Equestrian Club wishes its partners Dubai World, and the competitors and spectators alike an extremely enjoyable and successful day."
HE Sultan Ahmed Bin Sulayem, Chairman, Dubai World said: "Dubai World attaches great importance to this sport because it stems from our national heritage and is a hobby that has been popular with our forefathers for hundreds of years."
"Dubai World has always been known for sponsoring equestrian events, out of its belief of the necessity to preserve all initiatives contributing towards the safekeeping of heritage symbols that are particular to our society and culture.
"It is of vital importance to support the efforts aiming at preserving this traditional sport through organizing endurance races.
"Dubai World will always support social and sports activities in the UAE in general and in Dubai in particular in line with its vision of realizing the integration of all economic, social, cultural and sports sectors."
The ride comprises of five loops of 31km, 32km, 27km, 18km and 12km, and is the sixth of eight contests to be held at DIEC this 2007-08 season.