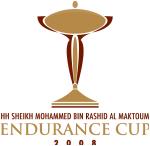 His Highness Sheikh Mohammed bin Rashid Al Maktoum has generously given the world's most valuable endurance race, named in his honour, a wonderful boost after adding four 4x4 vehicles to the AED 1.5million prize-money on offer.
Earlier this week, the Dubai Equestrian Club (DEC) announced the world's richest-ever endurance ride – the HH Sheikh Mohammed Bin Rashid Al Maktoum Endurance Cup 2008 – with Omega as the title sponsor.
Twenty six international riders will be joined by competitors from the UAE and the rest of the region in the 160-km event which is an FEI CEI 3* event, to be held at Dubai International Endurance City on Saturday.
General Manager of the DEC, Ali Moosa Al Khamiri, said: "We are indebted to His Highness Sheikh Mohammed bin Rashid Al Maktoum for his extremely kind gesture, which is sure to make competition even more fierce for this fabulous event."
Entrance is free and enthusiasts can sample the action up close on the course as DEC will operate a fleet of 4x4 cars for desert drives. Alternatively, fans can keep in touch with the action via big screens.
There will be plenty of action off the track too with a variety of family entertainment and a jazz band that will play throughout the day.
Complete Coverage