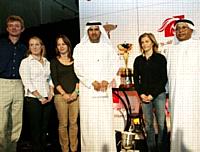 posted on 07/01/2008
The Dubai Equestrian Club on Sunday unveiled the world's richest-ever endurance ride - the His Highness Sheikh Mohammad Bin Rashid Al Maktoum Endurance Cup 2008 - to be held at the Dubai International Endurance City on January 12.
Addressing the press here at the Madinat Jumeirah, Saeed Al Tayer, vice-president of DEC, said 26 riders from all over the world have been invited for the Dh4 million ride with Omega as the title sponsor.
The January 12 ride is a FEI CEI three-star 160km event and will be run in six loops of 32kms, 32kms, 28kms, 28kms, 21kms and 19 kms. The 1.5 million cash prize will be distributed among the top 25 riders with the winner going home richer by Dh250,000.
"Apart from world class action on the tracks, a big screen will beam live the action at the ride venue while www.dubaiendurancecity.com will carry results live online. Entertainment for the family on the sidelines includes bouncy castles, clowns, stilt walkers, clowns, henna faces painters and a jazz band," added Al Tayer. – Gulf News
UAE Interact - full article