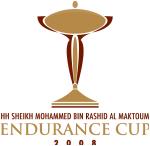 With just one day left before the top-class AED1.5million HHSM Endurance Cup 2008 field line up for Friday's pre-ride veterinary check, the Dubai International Endurance City was a hive of activity.
While the 26 international riders and horses have been training in their allotted areas, many UAE riders were also out having a feel before the world's richest endurance race on Saturday, organized by Dubai Equestrian Club and sponsored by Omega.
Liz Taylor, who is one of the three British riders in the fray, is hoping to bank on the experience she gained last year in the HH President's Cup in Abu Dhabi.
Taylor finished 18th last year on Falaina Bint Chatanz and is once again accompanied by the 14-year-old horse.
"That was the first time I was ever riding on sand and it was a good experience. It was a quality field and we finished 18th and we learnt a lot from that," said the 24-year-old who is employed with the British Farmers Union.
Taylor, who has been riding in competitions for about 12 years, enjoys a good record with her horse.
"Falaina Bint Chatanz has been a consistent performer and we have completed seven 160-km rides together including a win, a second and a third-place finish," said Taylor.
In the President's Cup held in February last year, Taylor and Falaina Bint Chatanz completed the 160-km ride in 8 hrs 57 mins 56 seconds with an average speed of 17.85 kmph.
"We have done about 18.5 kmph and I would be glad if we cross the 19kmph speed level and finish well," said Taylor.
John Robertson, the Technical Delegate for Saturday's FEI CEI 3* 160-km contest, said the riders and horses were put through strict quarantine controls.
"Everyone has been obeying the rules and since most of them have been here before it is no problem," said the Briton, who has been based at the Quarantine Stables in the Dubai International Endurance City.
"Our prime focus has been security of the horses and to ensure there is no contamination," he said.
"We have demarcated separate areas for their training and since all these horses are from Europe we just have one large stable here."
With the final list of entries being finalized, the horses will go through the pre-ride veterinary check on Friday afternoon before the expected pre-dawn start at 6.00 am on Saturday.
Full Event Covrage