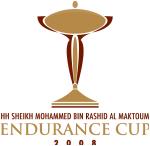 His Majesty Tuanku Mizan Zainal Abidin, the King of Malaysia, and Shaikh Mayed Bin Mohammad Bin Rashid Al Maktoum are part of the nearly 130-odd riders who are expected to start in the His Highness Shaikh Mohammad Bin Rashid Al Maktoum Endurance Cup 2008 on Saturday.
King Tuanku and Shaikh Mayed will be joined by 26 international riders and more than 100 riders from the UAE, including many international riders based here in the UAE.
With a whopping Dh1.5 million and four 4x4 vehicles on offer, Saturday's ride will go down as the richest-ever endurance ride.
Organised by the Dubai Equestrian Club (DEC), the FEI CEI 3-star 160-km ride is sponsored by Omega and will be held at the Dubai International Endurance City.
Shaikh Mayed, who recently emerged a double gold medallist, winning the individual as well as team gold in the Pan Arab Games, is also an Asian team gold medallist and heads a strong line-up of UAE riders.
Prominent among them are World junior silver medallist Shaikh Abdullah Bin Faisal Al Qasimi, Asian Games bronze medallist Sultan Ahmad Bin Sulayem, Mubarak Khalifa Bin Shafya, Salem Rashid Bin Ghadeyer, Hassan Bin Ali, Ali Al Muhairi, Ali Khalfan Al Muhairi and last season's top UAE rider Yousuf Ahmad Al Beloushi.
Some more big names are expected to line up ahead of Friday's pre-ride veterinary check, to be held at the venue in Seih Assalam.
Saturday's ride will be run in 6 loops of 32km, 32km, 28km, 28km, 21km and 19km. The top 25 riders will get a slice of the prize money. Three Best Conditioned Horse awards are also on offer.
John Robertson, the technical delegate for the ride, said the riders and horses were put through strict quarantine controls.
"Everyone has been obeying the rules and since most of them have been here before, it is no problem," said the Briton, who has been based at the Quarantine Stables in the Dubai International Endurance City.
"Security of the horses and ensuring that there is no contamination are our prime concerns," he said in a DEC press release.
"We have demarcated separate areas for their training and since all these horses are from Europe, we just have one large stable here," Robertson said.
Among the international riders, the French have entered a strong 12-member squad, which includes European Open champion Jean Philippe Frances, Barbara Lissarrague, the winner of the 2005 World Championship held in Dubai, and a few riders who have been on the gold medal-winning teams from France at the World and European Championships.
Top Australian rider Meg Wade, German ace Melanie Arnold, top Italians Fausto Fiorucci, Gianluca Laliscia and UAE-based Spanish rider Jaume Punti Dachs will be part of the international line-up here on Saturday.
Complete Coverage on Endurance.Net