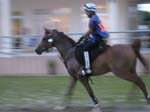 Jack Begaud, Naser Marzouqi, Maria Vitoria Liberal Lins, and Khalid al Shafar have closed within 4 minutes of each other as they prepare for the final 10.1 km of the 160km race. Marzouqi and Lins each brought their pace to 18+km/hr for the 6th leg to close the gap. The cool morning air is helping to encourage the riders to move forward with plenty of horse left.
Daylight will great the riders and horses as the pull this final leg along the sea shore of the South China Sea. American riders John Crandell and Kathy Brunges are following closely on strong horses - but must overcome a 15 minute lead to achieve first to finish.
7 have been eliminated at this point of the race, 4 from the list of invited foreign riders.
[More ...]