Bernana.Com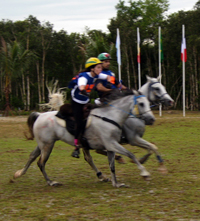 SETIU, Nov 11 (Bernama) -- United Arab Emirates' Naser Marzouqi edged France's Jack Begaud to win the Sultan's Cup Terengganu Endurance Race 2007 at the Terengganu International Endurance Park (TIEP) here Sunday.
Naser astride "Hafiza Du Mas" finished the 160km race in 10 hours 31 minutes and 50 seconds while Begaud was a close 10:33:27 behind.
Yang di-Pertuan Agong Tuanku Mizan Zainal Abidin, who also took part, finished in 23rd place after posting a time of 14:20:26. Tuanku Mizan, the patron of the championship, rode "Harmere Cairo".
Maria Vitoria Liberal Lins of Brazil was third in a time of 10:39:07.
A total of 41 riders from Brazil, Japan, Italy, Belgium, Portugal, Qatar, United Arab Emirates, South Africa, Australia and Malaysia took part in the championship, which is part of the preparations for the World Endurance Race (FEI 2008) to be held at the same venue next year.
Terengganu Menteri Besar Datuk Seri Idris Jusoh flagged off the riders at 4.30pm at the TIEP yesterday. His Majesty is scheduled to present the prizes to the winners at Dewan Besar, Wisma Darul Iman tonight.
[More ...]