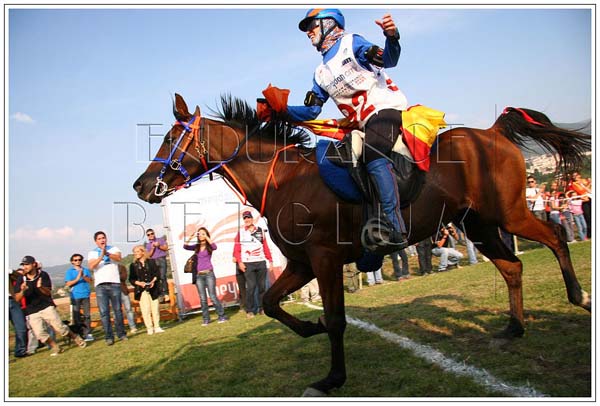 Photo by
Endurance-belgium.com
Horsemart.co.uk - Full Article
SPAIN's Maria Alvarez Ponton made endurance history by becoming the first rider to hold both World and European titles at the same time
SPAIN's Maria Alvarez Ponton made endurance history by becoming the first rider to hold both World and European titles at the same time following a convincing win at the FEI Meydan City Open European Endurance Championship held over the weekend in Assisi, Italy.
Alvarez Ponton has now stood on the medal podium for three year's in succession. With her 13-year-old French-bred gelding Nobby – world champion under entirely different conditions in Malaysia in 2008 – she also took individual bronze at the FEI European Championships at Barocca D'Alva in Portugal in 2007.
She crossed the line at the end of yesterday's tough contest in the shadow of the magnificent Saint Francisco's Basilica in 8hrs:10mins: 58secs to complete at an average speed of 19.5km/hr.
The European individual silver medal went to Belgium's Rachel Jaumotte with Dikruhu (19.1km/hr) while France's Romain Laporte took individual bronze with Novisaad d'Aqui at an average speed of 18.7km/hr.
The UAE's Sheikh Abdullah Bin Faisal Al Qasimi finished 10min behind Alvarez Ponton to take the Open European second place with Castlebar Sobia adding to his own recent silver medal winning success at the FEI World Championships for Juniors and Young Riders held in Hungary.
Rachel Jaumotte took the third place in the Open European section.
Fifth-placed Germany's Sabrina Arnold's Beau 36 was awarded the coveted best condition award.
More...