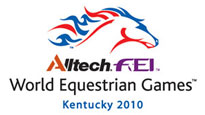 horsechannel.com
The world championships of eight different equestrian sports will begin exactly one year from today.
September 25, 2009
Lexington, Kentucky has been preparing for the World Equestrian Games for three years now, and the one-year countdown begins today.
The World Equestrian Games are held every four years and are the world championship of eight equestrian sports: Dressage, show jumping, eventing, reining, vaulting, endurance, para-dressage and combined driving. The world's best horses and riders will compete at the Kentucky Horse Park from September 25-October 10, 2010. This is the first time in WEG history that they will be held outside of Europe. The WEG will return to Europe in 2014 when they will be held in Normandy, France.
In recognition of the start of the one-year countdown, tickets will go on sale to the general public at noon today. To find pricing information and purchase tickets, visit the World Equestrian Games official website at http://www.alltechfeigames.com/. Tickets can also be purchased through ticketmaster.com or Ticketmaster outlets. Tickets are sold by event and session, and prices range from $25-150. For many Americans, the 2010 WEG will be a once in a lifetime opportunity to see the world's top equestrians compete in one location.
A variety of volunteer positions are available as well. Visit alltechfeigames.com for more information.
The World Equestrian Games celebrations are underway today in downtown Lexington. For those not in the Kentucky area, the Lexington-Fayette Urban County Government will be streaming a live video of the festivities at their website from 11 am to 1 pm Eastern time.
Get your tickets
here
.