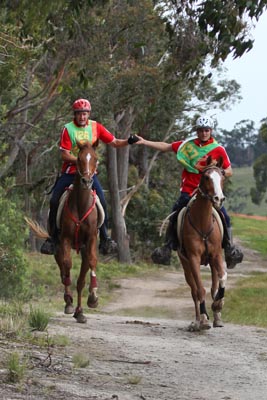 Victoria, Australia
September 21, 2009
Report from Jennifer Green
In a thrilling finish, brothers Brook and Matthew Sample from Queensland, crossed the finish line in a tied finish to claim victory in Australia's premier 160km Endurance event. Brook, riding Tuldar Saladin and Matthew, riding Brookleigh Ricardo jointly claimed the famous Tom Quilty Gold Cup in a riding time of 9 hours, 50 minutes and 12 seconds. Kristie Taprell, riding Castlebar Concorde took 3rd position in a time of 9 hours, 55 minutes and 12 seconds. All three riders were members of the Australian contingent of riders contesting the World Endurance Championships in Terrengganu, Malaysia, last year.
Internationally renowned endurance rider and multiple Quilty winner, Meg Wade, recovering from a serious fall earlier in the year, assisted with the presentation of the gold cup in an emotional hand over ceremony. Meg has vowed to be riding again as soon as her rehabilition programme allows her too.
The event was based at the impressive Tonimbuk Equestrian Centre south east of Melbourne and the course traversed 5 loops of various lengths in and around the majestic bush land areas of the Bunyip State Forest. The course was described as a true championship course with undulating hills in all phases.
Riders from all Australian states shared the course with riders from overseas nations including USA and Japan and many commented on the professionalism of the event, the high standards of horsemanship and horse management and the pure enjoyment of riding through beautiful Australian bush land.
Event Director, Lissy Verity, could not have been more pleased with the way the event progressed and was overjoyed that the riders and their crews expressed how much they had enjoyed their experience at this year's Quilty.
Further results by division:
Heavy Weight: (91kg and over)
1st Brodie Freeman Cedar Ridge Magnetic 11.17.10 BC
2nd Stephen Gray Kasbah Kid 11. 51.38
3rd Maurice Gray Chazar Fire N' Ice 12.33.40
4th Paul Legronne Johroy Custom Made 14.29.30
5th Alwyn Torenbeek Dalgangle 15.03.52
Middle Weight (73kg and under 91kg)
=1st Brook Sample Tuldar Saladin 9.50.12
=1st Matthew Sample Brookleigh Riardo 9.50.12 BC
3rd Kristie Taprell Castlebar Concorde 9.55.08
4th Jodie Patterson Celebration 10.38.26
5th Leigh Ann Sample Brookleigh Scarlett 10.39.16
Light Weight (Under 73kg)
1st Angela Hawkes Crysari 10.41.44 BC
2nd Elodie La Labourier Castlebar Moonlight 10.54.46
3rd Irene Adams Takoi Watermark 11.21.45
4th Wendy Chambers KaiHai Stirling Shakeira 11.32.42
5th Rebecca Miller Aqarius Park Chantilly Lace 12.07.38
Junior (under 18 years)
1st Shannon Hill Judah of Glendhu 12.05.15 BC
2ndJessyca Dakin Allira Park Wings of Fire 12.07.38
3rd James Green Hirstglem Maybe 12.30.39
4th Lainie Zischke Glenwan Sprite 12.48.41
=5th Harlee McCarthy Hirstglen Conquistador 13.26.38
=5th Jasmine Shields Porcelain Doll 13.26.38
Complete Results