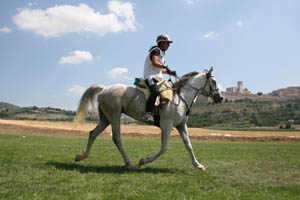 Reporter Extraordinaire Leonard Liesens sends his first report from Assisi, home to the 2009 European Endurance Championship Open
Thursday 24 September 2009
All horses have now arrived at the venue. An amazing venue of several huge tents accommodating the restaurants, the place for holding events, the commercial stands. Then of course also the VIP tents and the tents installed for Malaysia, Bahrain, and UAE.
The venue is installed on a plain, surrounded by hills. On one hill, the medieval city of Assisi (World Heritage) that will probably intensively be used by photograph as background.
The trail has been described as "tricky" by all teams who pre-rode it. A lot of asphalt roads, some dangerous parts to be ridden on the first loop in the dark.
Among the favorites : Maria Alvarez and Nobby, reigning World Champions, HE Sh Nasser from Bahrain on board Khandela des Vialettes (this horse is one of the best of the world, but the question is "how will he perform on this technical going"), current European Champion Jean-Philippe Frances on Hanaba du Bois.
There will be two vetgates, one at the venue and one abroad that will be used for all loops except the last one.
This evening, the opening ceremony with the presentation of the teams (on the central square of Assisi), then the gala dinner. Tomorrow the real things will start with the trotting of the horses, the chef d'equipe meeting and the preparation work of the crews.
Later,
Leonard Liesens,
www.endurance-belgium.com