2004 Ride & Tie World Championship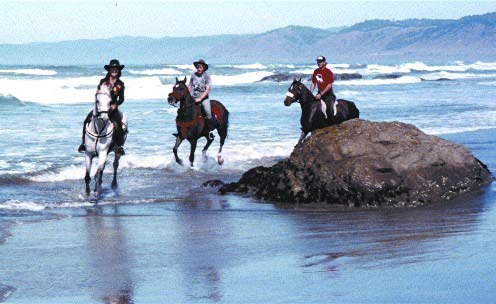 Have you always wanted to attend the Championships.... or do it again after a few years away? Well, this year is the perfect time! The WCRT will return to Mendocino Country on June 26, 2004, based on a 300 acre ranch called Simcha, overlooking the Pacific Ocean and Ten Mile River just north of Fort Bragg, California. The trail meanders past virgin Redwoods, with 360 degree ridge top views over the ocean to the west and to neighboring mountain forest ranges in the other three directions.
Building on the excitement and camaraderie of past Championships, the focus will be on a family reunion atmosphere for endurance enthusiasts, with newcomers enthusiastically welcomed! Plus, the famous Mendocino Coast is a grand destination vacation area in and of itself, offering everything from ocean caves and river kayaking, salmon fishing and abalone diving, to world class wining, dining and art galleries in town. Bring your friends, kids, and partner, and enjoy an escape to this secluded yet cosmopolitan paradise.
[More ...]