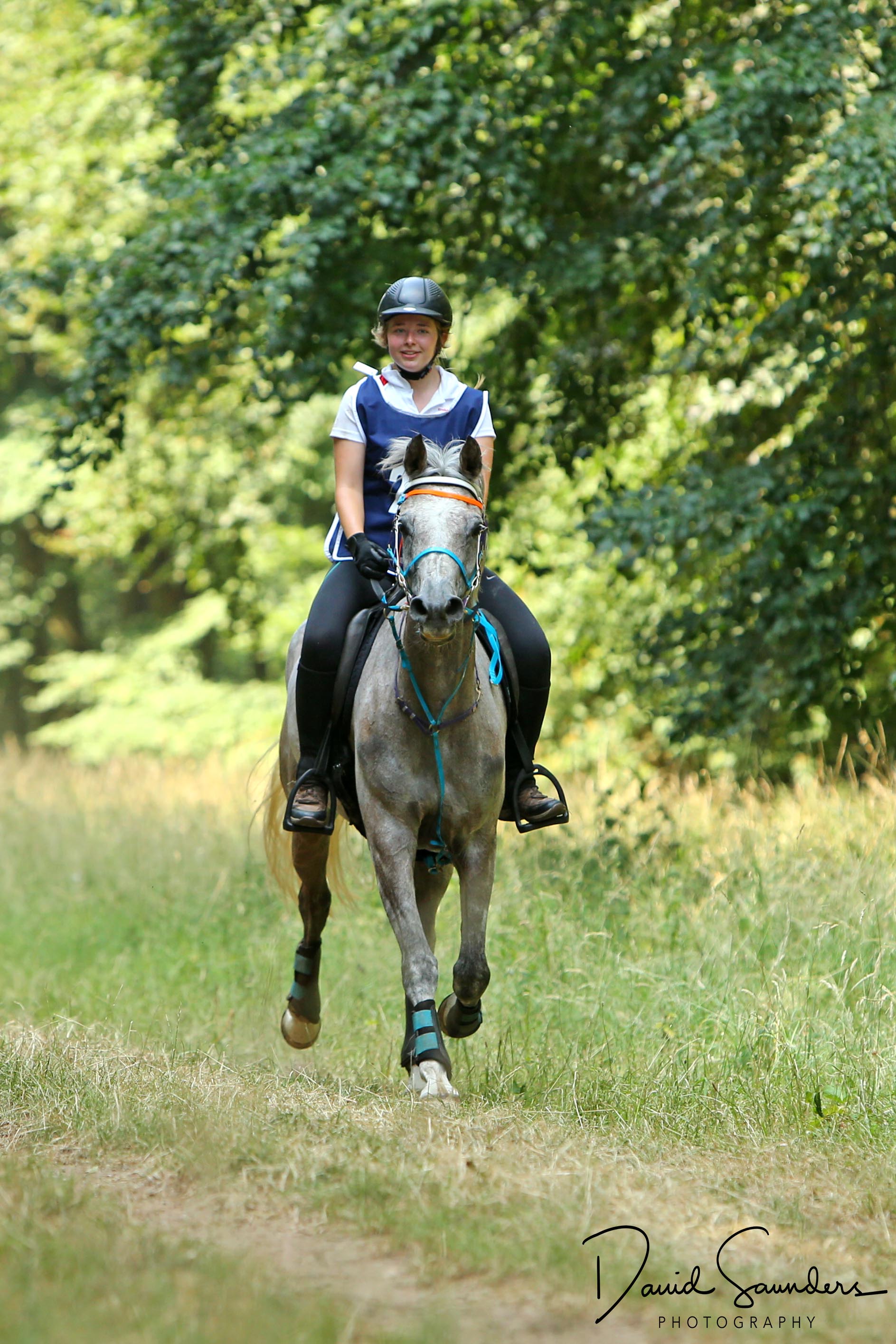 11 July 2018. The British Young Rider National Championships took place this past weekend at Kings Forest, Thetford, in some of the toughest conditions seen so far this year.
Endurance GB is extremely proud to announce that the 2018 Young Rider National Champion is Endurance GB Spotlight Scholar, Ella Bunting, who rode Emma Daniel's Aly's Estrella de Rock to victory last Saturday. The combination successfully completed the CEIYJ2* 120km ride at King's Forest (GBR) in what can only be described as extremely challenging conditions. With temperatures well over 30 degrees centigrade, excellent horsemanship and understanding were required by all riders competing across the entire field of classes.
The Young Rider Championships was a closely fought affair throughout the day. Five of the entrants in the CEIYJ2* were eligible to compete for the coveted title. In the initial stages the British contingent was dominated by Charlie Chadwick (GBR) partnered by Aragorn, Charlie's mother's 14 year old Arab gelding. Chadwick sat in second place behind the class leader Hamdan Ahmed Mohd Al Marri (UAE) with a comfortable nine minute lead over 3rd and 4th placed Bunting and Katie Bedwin (GBR) respectively.
As the day progressed the extreme conditions took their toll with two combinations failing to qualify for their next respective stages. British rider Keighley Pomroy's ambitions were dashed at Vet Gate Two where her horse Hathek was judged to have an irregular gait. Despite Chadwick's early success her day was cut short at the fourth Vet Gate, just 16km from the finish, where Aragorn also failed to qualify for the final stage due to an irregular gait. This left the competition wide open between the three remaining British riders. Bunting left on to the final loop with a two minute lead over Bedwin, with Harry Ollis (GBR) riding Kirsty Wiscombe's homebred bay mare, Yawl Hill Pollyanna, a further nine minutes behind.
Bunting and Bedwin rode the last loop together, as they had done the entire ride leading up to that point, ensuring their horses had company and were well motivated for the final stage. However, it was Ollis who put in the quickest final loop at 15.4kph – he successfully created a four minute lead over his compatriots, crossing the finish line in 2nd place behind 1st placed Al Marri (UAE), who had completed the course nearly two hours beforehand. However, Ollis' joy was short lived as Yawl Hill Pollyanna was judged to be lame at the final vetting. Bunting and Bedwin crossed the finish line together, hand in hand, having tackled the tough course together all day – the perfect display of camaraderie, sportsmanship and support with just one second separating the pair's final result. Both combinations passed the final vetting and the 2018 National Champion and Reserve Champion were crowned!
Various other classes took place over the weekend at the popular Thetford venue. Nicki Thorne, Chair of Endurance GB, said: "Special thanks to all those involved in ensuring a smooth and successful event despite the extremely testing conditions; the ride organising committee, the volunteers and officials, and of course, ongoing support from HPower Endurance and event sponsor Meydan."
Amongst many other things participants were treated to, top class veterinary services, unlimited ice and a very tasty barbeque for all in attendance on the Saturday evening.