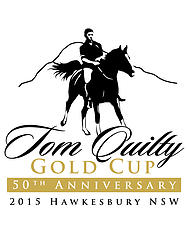 50th Tom Quilty and The Pony Express Connection
May 29 2015
by Merri Melde-Endurance.net
You've got to watch out for those Aussies. They show up everywhere. It's particularly handy when they show up to participate in iconic American endurance adventures like the 2011 XP Pony Express. That's what Aussies Lee-anne and Charlie Guaci did, much to the delight of American endurance riders Brenda Benkly and Kathy Neunzig.
In the spirit of equine friendship forged by shared trails, which is so special and contagious (and somewhat unique) in our endurance sport, after spending weeks on the XP together, the Guacis offered Brenda and Kathy mounts in Australia if they wanted to ride in the Tom Quilty.
It will be Californian Brenda's first time in Australia. She's familiar with challenging endurance rides, with over 10,000 miles to her credit, and 19 100-mile finishes, including 7 Tevis buckles. She'll be riding the Gauci's 15-year-old part Arabian mare Charleville Lady on her first 100-mile ride.
The Quilty has been on Kathy's Bucket List for some time, and the 50th anniversary of the Quilty was an added incentive for Kathy to take the Guacis up on their offer this year. A 7800-mile endurance rider with 12 100-mile completions, she'll be riding the Gauci's Charleville Jack, a 13-year-old part Arabian on his first 100-mile ride.
"I am most looking forward to the whole event," Kathy says. "Reconnecting with friends, riding in one of the largest (if not THE largest) endurance events in the world-yikes!, seeing another country like few have the opportunity to, on horseback through the Australian bush, and getting my mount through his first 160K race. 
"Such an opportunity!"
The Quilty will stream live - bookmark this link:
http://www.tomquilty15.com/

For more stories, photos, adventures and results, see
http://www.endurance.net/international/Australia/2015TomQuilty/