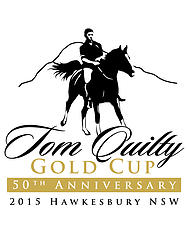 May 22 2015
by Merri Melde-Endurance.net
It's been called "the world's biggest horse endurance ride," and that may well be true, with 380 horses and riders on the start list for Australia's 50th anniversary of the Tom Quilty Gold Cup on June 6-7 in Hawkesbury, New South Wales.
It's the Australian equivalent of America's Tevis Cup: 100 miles in one day, the premiere ride that almost all endurance riders aspire to at some point in their endurance lives. The idea of the Quilty was started by Queenslander RM Williams in 1966, then editor of Hoof and Horns magazine, after hearing and printing stories about the Tevis Cup in California. RM asked his friend Tom Quilty, "a great horseman and cattleman" for help; Quilty donated $1000, which was used to make a gold cup, which became the perpetual trophy for the ride.
Of the nine riders from the USA scheduled to start in this year's Tom Quilty, it just might be Californian Jenna Towner who is the most excited. She signed up for the Quilty before she was even qualified to ride it.
"I'm 42 and just started riding Endurance two years ago," Jenna says. "I rode Hunter/Jumpers my whole life, but after incurring several injuries in Baghdad, I just couldn't afford to get thrown off a horse. Still, I longed for the woods - and since I could no longer go hiking with my dog (my favorite thing ever), this sport called to me with enormous vigor.  I feel sincerely grateful every day that I found this sport . . . even if it took me 40 years."
With her own horse PR Toronto rehabbing from an injury, Jenna's good friend Kristen Vaught loaned her horse Sammies Ace to Jenna for the Twenty Mule Team 100 in February, for Jenna's first 100-mile ride. With the pair finishing the 100-mile ride, Jenna was qualified to start in the Quilty.
Jenna will ride the 11-year-old Anglo Arabian mare Monkhani Lodge Noble's Locket, owned by Emma Holland of Roswick Endurance in Victoria. Roswick Endurance and Performance horses breed, train, and compete Arabians in endurance, racing, dressage, show, and pleasure. The mare recently completed the Derghorn 160-km ride in November of 2014.
Traveling to Australia for this momentous event, Jenna is combining her travel bug with her love of endurance. She is most looking forward to the starting line. "At midnight, mounted upon a strange horse in a strange land, staring down a crowd of over 400 excited horses . . . that moment before it all begins is when my mind is most quiet and I realize 'Damn, I'm the luckiest person alive'.  
"For me, it's always about the starting line. Finishing is a grand and amazing bonus - but sometimes we lose sight of the struggle it took to just show up."
The Quilty will stream live - bookmark this link:
http://www.tomquilty15.com/
For more stories, photos, adventures and results, see
http://www.endurance.net/international/Australia/2015TomQuilty/