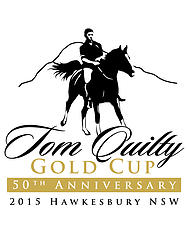 May 27 2015
by Merri Melde-Endurance.net
It's those fun-loving, horse addicted Aussies that have Paul Sidio returning Down Under to ride in the Tom Quilty again. He rode in the 2013 Quilty but did not complete, but the people he met there made the trip incredibly enjoyable. "There was no doubt that we would head back to try again in 2015. The fact that it is the 50th edition only makes it even better," Paul says.
From Spokane, Missouri, Paul has been riding endurance in the USA for 13 seasons, with close to 4000 miles, and 13 100-mile completions. Paul finished Tevis twice on his gelding Piper (KMA Chazz Piper), and he loaned Piper to his Aussie friend Greysen Clark in 2014 for the Tevis. The pair made it 60 miles before being pulled. Greyson is returning the favor, supplying Paul's mount for this year's Quilty, 11-year-old Arabian Grey-Gun Vanharlen. Vanharlen has completed the Faraway Easter Carnival, a 320-km marathon, though the Quilty will be his first 100-mile ride.
Paul will be traveling with his wife, who will be his "strapper" for the ride (crew in Aussie talk).
"In Australia, for the Quilty and other big rides, they arrive early, have fun, and leave late," Paul says. "It is not just a one or two day thing; it is a week long funfest. I most look forward to the late night bonfires, and the tall tales being told . . . some of which are even partly true!"
With close to 400 horses scheduled to start the 100-mile ride at midnight, it will be an unforgettable experience. "They will have a big sports event large screen TV showing the leader board and on track videos. They will have loudspeakers playing music including the famous Tom Quilty Ballad. There will be stadium lights shining on the riders and horses as they circle and warm up for the start . . . at midnight . . .
"Can you imagine anything more exciting?"
The Quilty will stream live - bookmark this link:
http://www.tomquilty15.com/
For more stories, photos, adventures and results, see
http://www.endurance.net/international/Australia/2015TomQuilty/