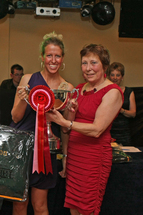 Horsemart.co.uk
15 December 2011
HorseHage-sponsored endurance rider, Jeni Gilbert, and her Connemara pony, Flurrie, have triumphed at the recent annual Endurance GB Awards.
The pair took the titles of Senior and Supreme Champion as well as winning the Veteran Trophy and awards for the Best Unregistered Horse and Best Endurance Ride Results This Season. They were also runners-up for the Best Team award (four horses) and the Best Three Endurance Ride Results and achieved their 6400km award for successful competition.
This is the second time Jeni and Flurrie, who are based near Huddersfield in Yorkshire, have been crowned Endurance GB Supreme Championship and is a brilliant achievement for both horse and rider as Flurrie is now sixteen-years-old and is a native breed competing in a sport dominated by Arab horses.
Said a delighted Jeni: "My great pony, Flurrie, and fantastic crew of Sue Headland and Julie Martin are the mainstay behind our success and it is always a real team effort. I am also very grateful to the support I receive from my sponsor, Marksway HorseHage. It was a thrilling end to a great season!"
For further information on HorseHage, or advice on feeding your horse or pony, please call 01803 527257 or visit www.horsehage.co.uk