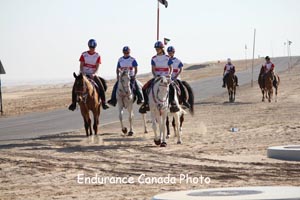 Dec 6
Melody Blittersdorf (USA)
Kyle is doing Great !! Great ride today ! He is having a blast ! Practiced his French today with the French team ;) Forest had fun at the camel tack store , today they went to dubai today to a very fancy stable ;) Steven is having the time of his life too !
Kyle Gibbon (USA)
Hi Everyone - Sorry I did not get a chance to write yesterday.  Each and every day seems to start at 6 a.m. and finish at 1 a.m....
it seems as if a fair amount of trails used here, the sand is grated and raked and gets quite hard, seems as hard as pavement.
Ali Toft (Australia)
Opening Ceremony at the Emirates Palace Hotel....NICE!
Dec 7
Ariel MacLeod (Canada)
Yesterday before opening ceremonies a few of us got to go to the beach, what a beautiful sight/feeling. The sand was super white, and the water as clear and blue as ever. This morning Team Canada will get down and dirty clipping Summer, I'm sure we will see black hair everywhere!!
Dec 8
Lientjie de Wit (Namibia)
sooooo Chef d'Equipe meeting done....we're still on track.....2night's the Desert Safari Dinner somewhere in the desert......will be a great experience I think....
Mary Katherine Clark (USA)
Rode today with the team. All horses are looking great. After that my mom, Mr. Steve, Kyle, Forest, Steven, and I went to the world's 3rd largest mosque which we finally arrived at after getting slightly turned around. I can offically say that I have been in the desert and got stuck in a car.But it didn't take to long to get and unstuck and we were back to driving the course. Drove the first 2 loops. Tonight we had a desert dinner where I rode a camel, ate dinner, talked with some friends, face planted in the sand trying to come down it on a snowboard lol, and much more.Vet in tomorrow at 2 o'clock and the USA is first to vet. GO USA!!!
Lientjie de Wit (Namibia)
tomorrow it's the pre-ride checks...starting at 14h00....can't wait to see all the horses....all of them are still in quarintine...till race day....
Steven Hay (USA)
Today we rode the trail--there are some long sections, that have VERY deep sand...This is not an easy course. It's not flat either--granted there aren't mountains, but...
And by rode the trail I mean drove..actually got stuck out there too lol
More updates throughout the event at:
http://www.endurance.net/international/UAE/2011WECYRJ/