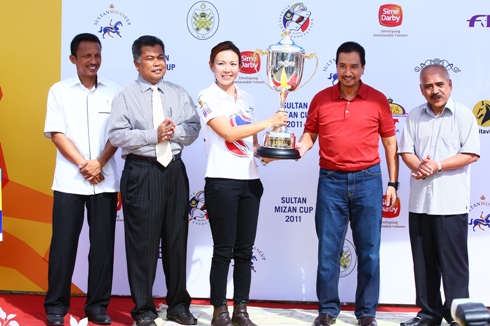 Setiu, 9 October 2011 – Coming in first place at the Sultan Mizan Cup 2011, Wipawan Pawitayalarp of Thailand rode home with USD20,000 in her pocket and an AmaSwiss watch worth USD17,200 on her wrist. Wipawan astride Mulawa Angelus completed the 120 km track in 6:17:43 with an average speed of 19.06 km per hour.
Next to finished in good condition was M. Marlon and Mohammad Fuad Hashim from the State of Terengganu Endurance Team (STET) who clock a time of 6:29:17 riding at an average speed of 18.5 km per hour. He received a tidy sum of USD14,000 as the second place winner. In third place was Zelma Lotter from South Africa riding for TMKN Equestrian on board Nashaar, who won USD10,000 after having completed in a time of 7:02:35 with an average speed of 17.04 km per hour.
Completing the ride in 7:38:30 on Shardell Gazalan, Warit Khuntarhporn from Thailand rode into fourth place at an average speed of 15.7 km per hour. Mohd Sulaiman Muda of Royal Terengganu Endurance Stable mounted on Jakim Murphy came in fifth, clocking 8:15:15 and an average speed of 14.54 km per hour. Warit and Sulaiman received prizemoney of USD6,000 and USD4,000 respectively.
The much coveted Best Conditioned Horse Award went to M. Marlon ridden by second place winner Mohammad Fuad Hashim, who won additional prizemoney of USD6,000.
The prizemoney for the 2011 Sultan Mizan Cup has been doubled that of last year. The Honourable Dato' Seri Hj Ahmad Said, Chief Minister of Terengganu presented prizes to the fifth, fourth, third and second place winners while His Majesty, the King of Malaysia, Tuanku Mizan Zainal Abidin did the honours for the Champion of 2011 Sultan Mizan Cup as well as the winner of the Best Conditioned Horse Award.
The Honourable Chief Minister of Terengganu said, "Our vision is to make the Sultan Mizan Cup the region's premier event and Terengganu the regional hub for the sport of endurance."
Riders who completed the Sultan Mizan Cup International Endurance Challenge successfully each received an award of USD6,000 and a buckle, a tradition of the sport of endurance. They were Nik Sabarudin Nik Daud, Mohd Nizan Muda, Muhamad Adhwa Embong, Syarifuddin Shamsul Anuar, Mohd Halim Abd Rahim and Mohd Afendi Mohd Rafi.
His Majesty Tuanku Mizan Zainal Abidin riding RTES Smith, a 9-year-old gelding, was among the 53 Malaysian riders from teams across Malaysia. The other riders were from Australia, Chile, Slovakia, France, Indonesia, Singapore and Thailand.
Ian Williams, FEI Director of Endurance said, "I witnessed yet another superb competition. The ride was very tough for both the riders and horses. I must say it is a world-class event. The officials and support crew did a fantastic job. It is not easy to run an endurance ride in conditions like you have in Terengganu.
"The FEI really looks forward to the further development of the sport in Malaysia, particularly development of youth."
Williams also remarked that the facilities at Terengganu International Endurance Park are first-class and that it is one of the top three endurance villages in the world.
Jointly organised by the Terengganu State Government and the Royal Terengganu Endurance Stable, the 2011 Sultan Mizan Cup was held from 7-9 October at the Terengganu International Endurance Park.
Sponsors of the Sultan Mizan Cup 2011 include Sime Darby Berhad, Norlan United & Carriage Sdn Bhd, AmaSwiss, Public Bank Berhad, Syarikat Air Terengganu Sdn Bhd, Mitavite Asia Sdn Bhd and Ari Usaha Murni Sdn Bhd.