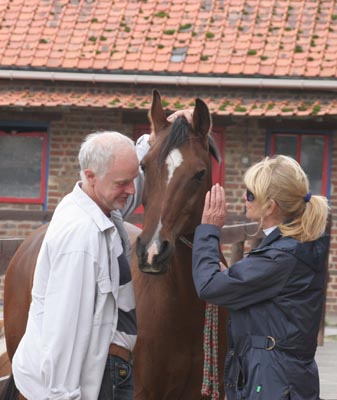 April 4 2011
Every year, the WAHO (World Arabian Horse Organization) honors an arabian horse in every country by awarding the WAHO TROPHY.
Often in Belgium, as the association is mainly managed by breeders from the show ring, it is a show horse which is awarded. But the mentality is slowly changing in Belgium, leading the board of the Belgian Studbook to award the trophy to a sport horse.
So this year the WAHO Trophy went to ORFEO DES IVIERS, a horse who had a very long career in endurance (4 World Championchips, 2 European Championships) and won several international races.
Chaque année l'organisation mondiale du pur sang arabe, la WAHO, met à l'honneur un cheval arabe dans chaque pays en lui décernant le "WAHO TROPHY".
Souvent en Belgique, puisque l'organisation est principalement gérée par des éleveurs actifs dans le monde du show, c'est un cheval reconnu pour sa beauté qui est nominé et reçoit le titre belge. Mais il faut reconnaître que la mentalité commence à changer dans le milieu du pur sang arabe. La versatilité du cheval arabe est reconnue, est louée dans les écrits des organisations telles que la WAHO et l'ECAHO, mais dans la réalité ce sont encore les caractéristiques de beauté de l'arabe dit 'de show' qui dominent.
Story and photos on Orfeo des Iviers here:
http://merritravels.endurance.net/2010/09/mon-amour.html