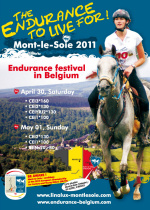 Mont Le Soie - The classical leg on the international scene...
Mont Le Soie is a hilly and grueling course. That's why several
national teams chose the ride for testing their horses and riders in
preparation of the European Championship to be held in Florac, France.
United Kingdom, Holland, Switzerland send a team in preparation of the
European Championship of Florac.
We are also awaiting several Franch riders, among them Marie and Jack
Begaud.
A big event! As usual, the course will offer varied and selective
trails. All loops of the circuit are different!
The program is impressive: CEI***160km, CEI**120km, CEIYR**120km,
CEI*100km on Saturday 30th April - CEI**120km, CEI*100km on Sunday 1st
May.MONT LE SOIE CEI***/CEI**/CEI**YR/CEI*.
La classique belge de l'endurance internationale...
Le Royaume Uni, la Hollande, la Suisse nous envoient une équipe en
préparation du Championnat d'Europe de Florac.
Nous attendons aussi plusieurs cavaliers français, notamment Marie et
Jack Begaud.
Une belle course en perspective, avec le tracé toujours varié et
sélectif et toutes ses boucles différentes dans la partie la plus
vallonnée de la Belgique.
Des courses en pagaille sur les deux jours : CEI***160km, CEI**120km,
CEIYR**120km, CEI*100km le samedi 30 avril - CEI**120km, CEI*100km le
dimanche 1er mai.
Information on
www.endurance-belgium.com
and
http://www.endurance.net/international/Belgium/2011MontLeSoie/