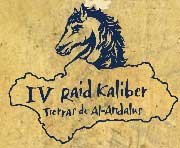 www.tierrasdeal-andalus.com
Las etapas para el V Raid Kaliber Tierras de al-Andalus han sido anunciados. Las fechas son 10 al 18 de abril.
The V Raid Kaliber Tierras de al-Andalus stages. It will be from 10th to 18th of April.
Etapas/Stages:
• 1st etapa/stage, 10 de abril: Cazorla-Ubeda
• 2nd etapa/stage, 11 de abril: Linares-Andujar
• 3rd etapa/stage, 12 de abril: Andujar-Montoro
• 4th etapa/stage, 13 de abril: Montoro- Cordoba
• 14 de abril: Descanso y traslado a Palma del Rio (rest and transfer)
• 5th etapa/stage, 15 de abril: Palma del Rio-Carmona
• 6th etapa/stage, 16 de abril: Carmona-Dos Hermanas
• 7th etapa/stage, 17 de abril: Italica (Santiponce)-El Rocio
• 8th etapa/stage, 18 de abril: El Rocio-Sanlucar de Bda.