Al Ain Stables shine in Hamdan Bin Rashid ride
By M. Satya Narayan, Gulfnews.com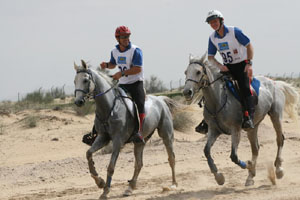 Abu Dhabi: Mattar Al Yabhouni's Al Ain Stables scooped up the Nissan Patrol and Dh50,000 after a 1-2 finish by Mohammad Asif Abdul Razzaq and Narayan Singh Dungar Singh in the Shaikh Hamdan Bin Rashid Al Maktoum Challenge CEN 100km endurance ride yesterday.
Organised by the Dubai Equestrian Club, yesterday's ride had on offer the Nissan Patrol and Dh515,000 in prize money and was meant exclusively for riders from smaller stables and individually-owned stables and riders.
Pakistani rider Asif completed the 100km ride on Bahia in 4hrs 27mins and 38secs at an average speed of 22.87kmph. India's Narayan Singh on Al Marek, the second of the eight runners from Al Ain Stables, finished about eight minutes later, completing a good day for the riding boys from the sub-continent. Young Layla Abdul Aziz Al Redha was third on Foxtrott 40.
Shaikh Rashid Bin Hamdan Bin Rashid Al Maktoum and Ali Mousa of DEC gave away the car keys and other trophies. "I finished 13th once and then 2nd recently, but this is my first win in my 7-year riding career," said the winner.
Results: Top five finishers only:
1. Mohammad Asif Abdul Razzaq -
Pakistan - (Bahia) 4:27.38; 2. Narayan Singh Dungar Singh - India - (Al Marek) 4:35.39; 3. Layla Abdul Aziz Al Redha (Foxtrot 40) 4:44.45;
4. Al Hareth Hamad Al Badi (Shahad) 4:52.58; 5. Mohammad Abdullah Al Mahri (Shahir Bint Al Archon) 4:53.30.
[More ...]