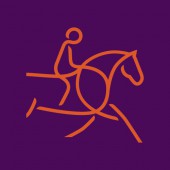 Tryon2018.com
By: WEG Admin
Sep 9, 2018
TRYON, NC, USA – September 9, 2018 – Tryon International Equestrian Center (TIEC) is pleased to announce Meydan Group as the title sponsor of Endurance at the FEI World Equestrian Games™ Tryon 2018 (WEG), taking place this September (11 – 23).
The sponsorship further reinforces Meydan's ongoing commitment to equestrian sport, building on its position as a leading supporter of international horse racing and equestrian events. Meydan Group has a long-term affiliation with equestrianism, particularly Endurance riding, and is dedicated to growing Endurance riding through ongoing initiatives around the world.
As part of the sponsorship agreement, the WEG Endurance competition will be renamed "Meydan Endurance," taking place on Wednesday, September 12, with the final circuit of the Meydan Endurance course named "The Meydan Loop."
"We are very pleased to be title sponsor of Endurance at the World Equestrian Games this September," said Munther Muheisen, Vice President Strategy & Investment and acting Head of Corporate Communication Department of Meydan Group.
"We are committed to ensuring the sport receives the support necessary to grow and progress on a global scale. This event is a great opportunity to communicate our dedication to the sport, as well as the visionary approach of Meydan."
Mark Bellissimo, Co-Founder and CEO of Tryon International Equestrian Center said: "We are thrilled to have Meydan on board as title sponsor of Endurance at this year's FEI World Equestrian Games. Meydan Group's support will be extremely beneficial, particularly for spectator experience through the enhancement of facilities such as the HH Sheikh Mohammed Bin Rashid Al Maktoum, Vice President and Prime Minister of the UAE and Ruler of Dubai, Royal Pavilion. This is a very exciting partnership for Tryon 2018."
The FEI World Equestrian Games™ is expected to attract as many as 500,000 spectators to the largest equestrian event in the world, hosting eight disciplines and over 70 nations. For more information on the FEI World Equestrian Games™ Tryon 2018, please visit
www.tryon2018.com
.
ABOUT MEYDAN GROUP
Meydan is the visionary concept of His Highness Sheikh Mohammed Bin Rashid Al Maktoum, Vice President and Prime Minister of the United Arab Emirates and Ruler of Dubai. The project is the culmination of his vision to create an integrated city that is innovatively sustainable, environmentally responsible and strategically positions Dubai at the centre of the competitive global business stage.
Meydan Group aims to link the world with the Emirate of Dubai through international equestrian events and a range of commercial developments, including hospitality, sports, entertainment, state-of-the-art business parks, residential villa communities, world-class educational and medical facilities, business towers with luxury waterfront developments and contemporary shopping destinations.
Meydan Racecourse and Grandstand are marvels of architecture and entertainment, hosting the world's richest day in horseracing and the region's premier sport and social event, the $35 million Dubai World Cup, which is topped by its $12 million namesake race and organised by Dubai Racing Club. Equine athleticism is further on display at Dubai Equestrian Club, which organises and hosts a series of international events, including the disciplines of endurance, dressage, show jumping and eventing at the purpose-built Dubai International Endurance City and its subsidiary Emirates Equestrian Centre. The former features the apex of endurance riding, the His Highness Sheikh Mohammed Bin Rashid Al Maktoum Endurance Cup, while the latter hosts the Dubai Show Jumping Championship.
Meydan's real estate ventures include Mohammed Bin Rashid Al Maktoum City, which covers approximately 45 million square feet of prime freehold development in the heart of Dubai, as well as Meydan Avenue, a mixed-use retail and residential development that incorporates the iconic Grandstand, The Track Meydan Golf, Meydan Tennis Academy and 285-room The Meydan Hotel at its heart. Multiple award-winning Bab Al Shams Desert Resort & Spa is the Middle East's premier venue of its kind, while Meydan Heights is home to premium Emirates Airline housing. Meydan One will offer an exceptional lifestyle to more than 83,000 residents with remarkable amenities and facilities, including the record-setting 711m Dubai One Tower, Meydan One Mall, a five-star hotel, civic plaza with dancing water fountains, indoor sports facility, 4km canal and marina, while the centrally located Meydan Free Zone offers a prime commercial location for high technology, superior telecommunications and business space flexibility.
For more information about Meydan, please visit
www.meydan.ae
.