THE NEED FOR COMMUNICATION
After more than one year of existence, the necessity of building a structured communication network has become obvious to convey what is happening in Bouthib.
We have seen and we know that names and designations are not always easily transcribed from one language to another, mainly when different alphabets having nothing in common are concerned (in this case the Arab characters and the Latin ones with English phonetic predominance). This is why the spelling fluctuates between Bouthieb, Boutheib, Bouthib or even Bou Thib according the transcribers' will more or less phonetically right. But if you really wish to communicate, you have to decide which spelling is suitable and stick to it. This is why Sh Sultan bin Zayed Al Nahyan has decided that, from now on, the right spelling in English is "Boudheib", which phonetically speaking is the nearest possible way to write it in English.
Then a logo was created to clearly identify the Organizing Committee and avoid calling it "the one of Bouthieb" or "the organization of Bouthieb", etc.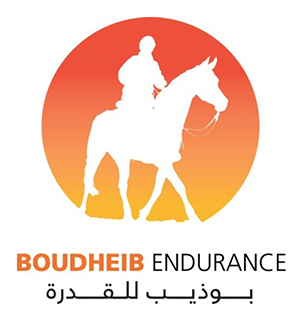 The official logo of Boudheib Endurance
"Boudheib Endurance" has become the official name of the entity managing and promoting the innovations taking place in Boudheib.
The Bouthieb Protocol has become the "Boudheib Endurance Challenge Award" or "BECA".
But orthography and a name are certainly not enough. Communication is more demanding, otherwise nothing or almost nothing of what one does has a true existence in the eyes of others. Of course, the articles written and distributed throughout the world, with the multiple developments it generates are an efficient means, but it does not replace the other media anchor which penalized the action.
It has now been done with the opening of a Facebook page ("Boudheib Initiative") and a website to come soon (www.boudheib.ae). This website will broadcast the live results of the events taking place in BIEV (official abbreviation of "Boudheib International Endurance Village"), situated among the dunes, next to Al Khatim in the center of Abu Dhabi. These results are at present exclusively broadcasted through the ATRM website which has a worldwide extent and shares the diffusion of the Boudheib Endurance events and will continue doing so.
Being aware that images have a tremendous power on the public, Boudheib Endurance has decided to have the BIEV events broadcasted on a live mode. Broadcasting live by streaming on Internet was preferred to the "traditional" TV process which is heavier to handle, more expensive and has less geographical extent than what the Internet network easily provides. The rides of January 5th and 6th 2017 were a successful test of that mode.
Read the full article here
---
François Kerboul
FEI 4* Judge, TD & CD
Architect dplg 13 01 2017