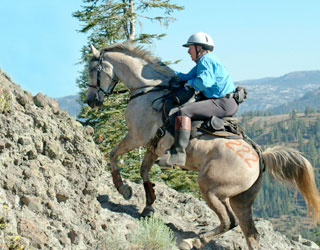 Posted by AERC, April 16
Longtime distance riding competitor Stephen Rojek, of South Woodstock, Vermont, became the newest inductee into the American Endurance Ride Conference's Hall of Fame at their recent convention in Atlanta, Georgia.
Rojek has amassed upwards of 25,000 miles of endurance competition since getting his start in 1986, including a staggering 176 100-mile rides. For rides of that distance, competitors have 24 hours to complete the ride. Fellow Hall of Fame member Valerie Kanavy of Fort Valley, Virginia, calls Rojek "The Centurion" because has more than a hundred 100-mile completions.
As he accepted his award plaque at AERC's national awards banquet in front of hundreds of fellow riders, Rojek modestly mentioned his most memorable time on the endurance trails as "Kansas in '96 when we won the gold medal" — that would be the United States' gold medal-winning performance at the World Endurance Championships. Rojek has competed in the North American Championships and the PanAm games for endurance riding and has won regional and national endurance awards most every season he's competed.
Presenting Rojek's award was Susan Kasemeyer of Friendsville, Tennessee, the 2011 Hall of Fame winner. Kasemeyer, known for her saucy sense of humor, called Rojek "Mr. Clean," and recalled his years of competing and managing endurance rides. She noted that he is also active in competitive trail riding, with an additional 30,000 Eastern Competitive Tail Ride Association miles.
Rojek's wife Dinah came on stage to add a few words, stressing that "Steve is the finest human being I've ever known." On rides, she said, "He will stop to help, try to fix your horse's shoe, give you his only Easyboot." Many an endurance rider has a tale to tell about Rojek taking time out to assist on the trail, without worrying about his own finish.
Rojek has ridden a number of horses, and with his predilection for 100s, has multiple horses with 100-mile equine mileage achievement awards. Currently he is campaigning Chi-Hi, a 2003 chestnut Arabian gelding (AHR 0602904), with 2,280 endurance miles, including 14 100-mile rides. Rojek is also bringing along Tupelo Ace, a 2003 grey Arabian gelding (AHR 0604175), with 425 endurance miles.
Once he made his way to the stage, he humbly thanked his presenters for the honor, saying, "I've gotten older. I have a bunch of miles," before admitting, "I guess I'm famous."
His advice to someone new to endurance riding? "Keep on trying. Don't give up."