Belgium: 2010 Arville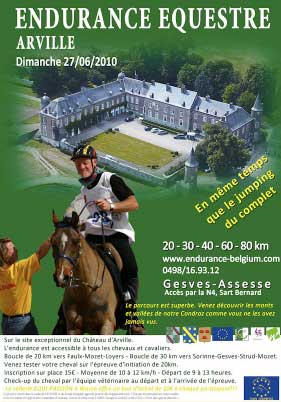 June 27 2010
The first 80 km National endurance ride took place at Arville, Belgium, at the same time as a 3-day event international.
Organized by international endurance rider Leonard Liesens, it attracted 66 starters.
Riders were very fortunate to compete in this wonderful venue, a park with grassland and forest of some 2000 hectares, a 17th century castle, Chateau d'Arville, with a village of gourmet food, belgian beers and many tackstores and others. Several attractions were at the venue, such as tree climbing, draft horses work performance, and carriage promenades.
"Finally the 'cohabitation'  with the international 3-days event was a success. Endurance made a good display, just beside the showjumping field," Liesens said. The ride was very technical, many ups and downs. "On the 30km loop they climbed for 900 meters. So in total on the 80km, 900x2+400= 2200 meters elevation difference. It was very warm - 34*C at the hottest part of the day - but no horse has been put at risk, none have been treated, no real metabolic elimination. The completion rate was very good - 70%. BRAVO to riders who as true 'horsemen' run their horses in these extreme conditions."
Following the style of Steph Teeter, who organizes endurance rides in Idaho, USA, Liesens marked trails by ribbons, and had prizes for many different categories: Turtle prizes for each category (the new endurance book of Leonard Liesens - "Le Livre d'un Cavalier Pour les Cavaliers"), Poulidor prizes (Poulidor is the traditional second of the Tour de France, he was second behind Anquetil then Merckx for many years), nicest couple horse/rider, nicest tack, fair-play prize, best horse showing in front of the vets, etc.  
"We plan a CEI* for next year hoping to attract some French riders from the North," Liesens said. Perhaps some foreigners from overseas will also join the riders for this unique and beautiful ride.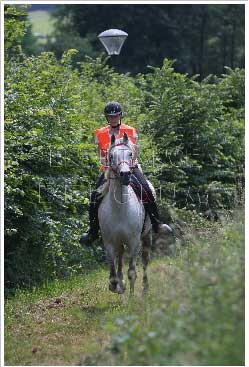 Photos by Caroll Gatelier here:
http://www.endurance-belgium.com/photos/arville10/index.html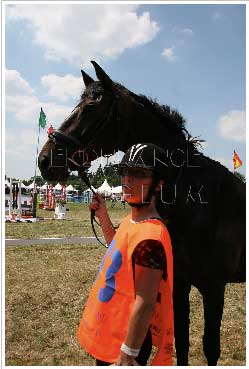 Photos by Leonard Liesens here:
http://www.endurance-belgium.com/photos/arville10ll/index.html
and recap here:
http://www.endurance-belgium.com/navigation/index.htm