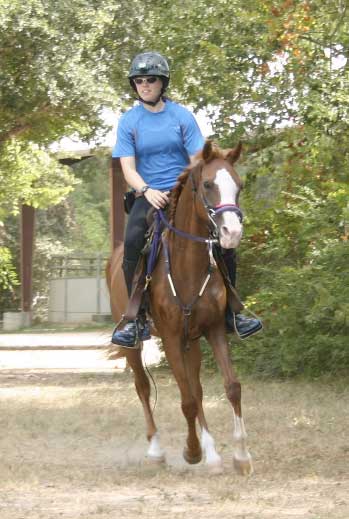 Alexandria Kirkland, training for the 2009 Young Rider/Junior World Endurance Championships
Sixteen-year-old Alexandria Kirkland will be the U.S. representative at the 2009 FEI Young Rider/Junior World Endurance Championships, held in Babolna, Hungary on September 5. The prestigious 75 mile horse race will be attended by 29 countries and over 120 competitors. Kirkland will be the sole American rider to compete at these Championships, and she is coming off of a solid individual bronze medal at the North American Championships last month in Indiana.
"After such a strong performance at the North American Championships, I have high hopes for these World Championships. My sponsors, Hought Endurance Tack and The Distance Depot, have provided me with everything I need to be successful in Hungary. Being the United States' only hope for a medal definitely puts the pressure on, but I am confident in the talent of my support crew and the horse." Kirkland says about the Championships.
Accompanying Alexandria will be her mother and her chief crew, Deborah Kirkland. It will be the first World Championships for both Kirkland and her crew, though her mother has been a crew member for Alexandria's entire career in Endurance.
"I've been coaching and assisting Alexandria for over five years now," says Deborah Kirkland. "She has always been an intense strategist at races, and a fierce athlete. Alexandria will be riding a leased horse from France, a horse she's never seen before, on a course that she's never ridden, so she will have to use her experience and riding skill to be successful."
The United States Young Rider Endurance program has never captured a medal at a World Championships, and Kirkland hopes to be the first. In fact, the United States has not stood on the podium of a World Championships in over ten years, since Valerie Kanavy's gold medal at the 1998 World Endurance Championships. However, the US is hoping to change their luck in time for next year's 2010 World Equestrian Championships in Kentucky.
"A good showing at the 2009 World Endurance Championships would absolutely set the stage for Team USA in 2010, when the Championships are on our home turf in Kentucky," said Kirkland. "Hopefully we can put America back on the top of the sport of Endurance."