Khaleej Times article
By Hisham Al Gizouli
15 March 2008
DUBAI — Zafir Nawaz won his first endurance silverware after landing the CEN 100km Shaikh Hamdan bin Rashid Al Maktoum Challenge 2 here at Seih Assalam Endurance City on Saturday.
The winner onboard 13-year-old Arabian gelding Lautaro took over the running from loop two to lead a splendid one-two finish for Al Ain Stables.
"My horse was in great nick and had plenty left in his tank to win convincingly at the end. It's his maiden win and looks a fantastic prospect," said a delighted Pakistani rider later.
Compatriot Mohammed Asif Abdul Razaq astride 10-year-old Arabian gelding Milqvi six finished six minutes off the pace second place.
"I'm really happy with the result. It's my first win since I started riding few years ago. It is good to end the season on a high note. It means a lot for me and my stables. Hopefully we can look forward to a few more from this fantastic one-two finish for the stable.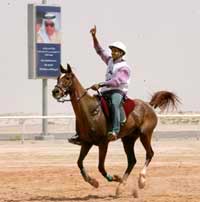 "The race was run at a very fast pace in a relatively hot weather conditions. It was a race that panned out well for us. I had the full backing of my team and a good result to go home at the end."
The final race of the season started with 69 riders from the small stables hitting in the heart of the desert under the early rays of the sun.
The winner didn't waste much time and put his horse on the heels of the early speed right from the start as the Sudanese rider Alazz Al Ghaley showed the way astride his six-year-old Arabian Diyar by the end of the first loop.
Zafir hit the front after the second vet gate with compatriot and stable-mate Mohd Asif just behind the lead as the riders completed the second loop at an average speed of 23.57km/hour, before they surge clear and emerge easy winners.