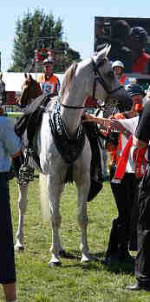 Pacifica with the winner's garland.
Horsetalk.co.nz article
The 103km endurance competition at the Horse of the Year show at the weekend was a closely fought event, with the winner Kirstin Deuss, riding Pacifica, finishing in just under five hours.
The riders left the main stadium at the Hastings showgrounds at 6am on Friday morning, heading 32km across the Tukituk River and out to Haupiri Station at Ocean beach to end the first loop. Three more loops were run on the station, taking the riders well down towards Cape Kidnappers.
There were 25 combinations taking part, including riders from South Africa. It was a galloping finish for Deuss and second placed Teresa Birkett, whose horse unfortunately fell on the road during the run in.
Pacifica also won the best conditioned award. The mare was bred in the South Island by Belinda Simons and is half Polish, being by Earth Wind and Fire from Oceania (Ocean Monarch x Dellmount Ishtar by Cairo).
Results
1st Kirstin Deuss
2nd was Teresa Birkett
3rd was Tony Masters
4th Denise Hill
5th Petra Deacon
6th Jenny Chandler