Gulf Daily News
Endurance.Net Event Coverage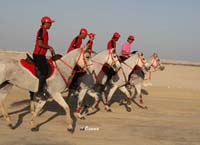 BAHRAIN'S Royal Endurance Team captain Shaikh Nasser bin Hamad Al Khalifa led his side's training yesterday prior to His Majesty King Hamad's Endurance Horseride Championship scheduled for tomorrow at 5am at the Bahrain International Endurance Village in Sakhir.
Shaikh Nasser, the Bahrain Royal Equestrian and Endurance Federation (Breef) president, will also attend today's two-hour veterinary examination starting at 3pm at the event venue.
Meanwhile, Jordanian Equestrian Federation president Princess Alya bint Al Hussain arrived last night from Amman following an invitation from Shaikh Nasser to attend tomorrow's championship.
Princess Alya was received by Breef second vice-president Shaikh Khalid bin Abdulla Al Khalifa and other federation officials. Shaikh Khalid welcomed Princess Alya and conveyed the greetings of the Breef first vice-president, Shaikh Khalid bin Hamad Al Khalifa.
"We at the Bahrain Royal Equestrian and Endurance Federation are delighted to have our friends from Jordan and other regional countries take part in this prestigious event," said Shaikh Khalid. "This championship means a lot for us and we are keen to ensure that the event is a huge success," he said.
Princess Alya expressed gratitude to the Breef for inviting her to the championship.
Shaikh Nasser bin Hamad Al Khalifa will lead a strong field of riders from Bahrain and overseas in this challenging 120km championship.
Among top riders in the fray are UAE's Shaikh Majid bin Mohammed Al Maktoom, winner of the endurance race held during the Arab Games in Egypt.
Other top riders include a team from Saudi Arabia, led by Prince Abdulla bin Fahad Al Saud, besides six entrants from Jordan.
The Bahraini riders will also be present in today's event, representing the Royal Endurance Team, Al Khaldiya Stable, Al Asayel, Al Talia and other hot stables.
The event, sponsored by Al Areen Holding Company, Gulf Holding Company and International Bank, consists of races for senior and junior riders, both over 120km.
Each race will be divided into five stages with 30km for the first two stages, 25km for the third, 20km for the fourth and 15km for the fifth.
More than BD58,000 prizemoney is up for grabs. The top award in the senior race will be a vehicle worth BD16,000 for the champion. Runners-up will get BD7,000, BD6,000 for third place, BD5,000 for fourth and BD4,000 for fifth.
The prize for the sixth-place winner will be BD3,000, BD2,500 for seventh, BD2,000 for eighth, BD1,500 for ninth and BD1,000 for the 10th place.
In the junior race, BD26,400 will be divided into five prizes with the winner getting BD6,000 and the runner-up BD5,000. The prize for third plce will be BD4,000, BD3,000 for fourth place, BD2,500 for fifth, BD2,000 for sixth, BD1,500 for seventh, BD1,000 for eighth, BD800 for ninth and BD600 for 10th.
Endurance.Net Event Coverage