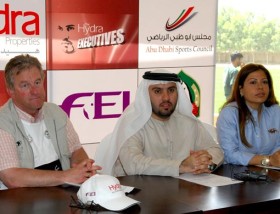 A plan to fund the development of Endurance in countries keen to participate in the sport was unveiled at a press conference in Abu Dhabi.
Gulf News article
By M. Satya Narayan, Senior Reporter
Published: March 10, 2008, 00:32
Abu Dhabi: The Federation Equestre Internationale (FEI), the world's governing body for equestrian sport, has for the first time tied up with a private company to help spread one of its disciplines - Endurance.
Ian Williams, Endurance Chief at the FEI, has signed a two-season deal with Dr Sulaiman Al Fahim of Hydra Properties for the sponsorship of a series of development programmes in countries which are starting out in the sport.
"This is the first time ever the FEI is involved in such a partnership and we are very delighted. The Dh500,000 support will help FEI-approved officials to conduct seminars and courses which will help National Federations to equip their officials and cadres in organising endurance rides," said Williams."
Dr Al Fahim, CEO of Hydra Properties, termed the support as "an innovative endeavour".
"Princess Haya Bint Hussain, Wife of His Highness Shaikh Mohammad Bin Rashid Al Maktoum, Vice- President and Prime Minister of the UAE and Ruler of Dubai, and President of FEI, has with her visionary leadership taken equestrian sport to a new high.
"We thank Princess Haya and the FEI for giving us this opportunity to be involved in this worldwide educational programme for the development of Endurance Sport, which is a discipline very close to the UAE and is part of our culture and heritage," he said.
"Apart from the sponsorship of officials, Hydra Properties will be involved in providing support material at various courses and seminars to be held in new and developing countries so the officials in these countries can advance their knowledge and capability in organising endurance events," he said.
"The Abu Dhabi Sports Council and the Abu Dhabi Equestrian Club will also be part of this endeavour and I thank them for their support," Dr Al Fahim said.
This is the first time ever the FEI is involved in such a partnership and we are very delighted."
Ian William, FEI Endurance chief