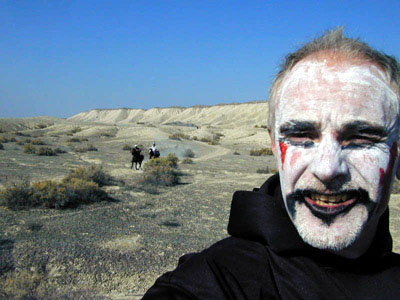 Belgian rider Leonard Leisens vows "I will return!"
Leisens will be competing in Oreana, Idaho again this summer, representing Belgium at the 2004 Abu Dhabi Arabian Nights CEI***. Leisens is no stranger to the Idaho desert, having ridden the Owyhee trails of Idaho on three previous occasions. His accomplishments include 4th place at the 2003 CEI*** Pacific South (Oreana, Idaho) ride on Great Santini, and several successful rides at the Owyhee Canyonlands multiday ride.
But Leisens, a top ranked FEI rider, still remembers the day when he lost a top ten finish on Jaziret Bey Musc, as he pursued two top women riders through the Idaho desert badlands, only to find that they had taken the wrong trail... "I thought that the trail might be wrong, and I kept racing to catch them and ask them - but they were going very very fast!". Now Leisens will return to the desert and try his luck again, vowing to keep his focus and redeem his reputation.
On August 28, Leisens and other riders from around the world will be gathering in Idaho to test their skills and keep their cool at the Abu Dhabi Arabian Nights 100 mile, CEI*** Endurance event.