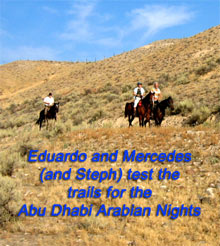 60+ entrants are expected to test their skills in the 2004 Abu Dhabi Arabian Nights Endurance Race on Saturday, 28 August at the southern Idaho ranch of John and Stephanie Teeter. 46 are entered in the CEI*** event, with 14 in the concurrent AERC open event.
Ride Manager Stephanie Teeter says, "We expect a very competitve 100 mile event this year. The weather is cooling and clear with perfect trails". The USEF Endurance Squad will be participating in preparation for the 2004 World Endurance Championships to be held in January in Dubai U.A.E.
The Emirates International Endurance Village, sponsor of this years event, are providing prizes for the top three finishers as well as for the horse judged to be the Best Condition. The first place finisher will receive a Sundowner horse trailer. Second place will receive a Gaston Mercier saddle. Third place will receive a Specialized Saddle. The Best Condition award will be a Reactor Pannel Endurance Saddle.
The current list of Entrants may be found at:
http://www.enduranceworld.net/events/2004arabiannights/riders/
Full coverage of the event will be provided by EnduranceWorld.net on Saturday and Sunday.ft" border="5" bordercolor="black" />
Web Coverage
Official Ride Site