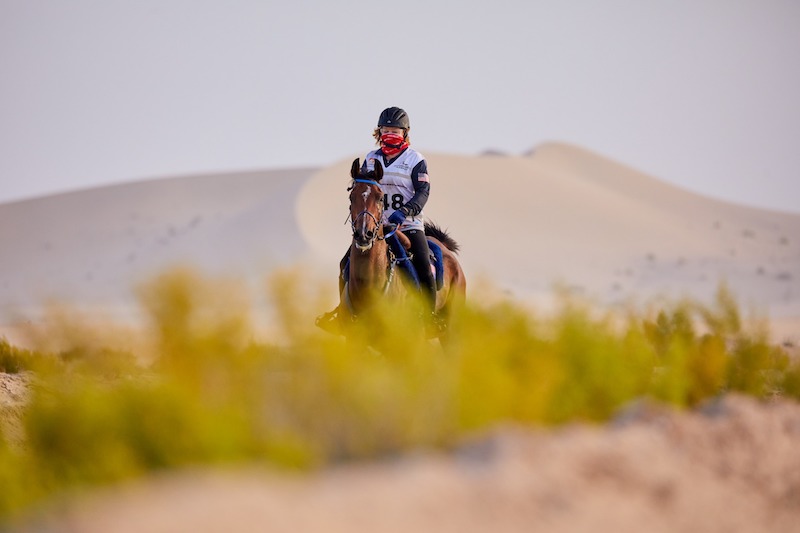 FEI/Jon Stroud Photo
Chronofhorse.com - Full Article
By: Erin Harty
Mar 3, 2023 - 6:18 PM
It was a long road to Butheeb (United Arab Emirates) for the 2022 FEI World Endurance Championship, in more ways than one.
The biennial event originally was scheduled to take place in Verona, Italy, in late October 2022, but was cancelled about six weeks beforehand due to concerns about track readiness and athlete safety at the venue. The Fédération Équestre Internationale reopened the bid process, and on Nov. 10, announced that the Butheeb International Endurance Village, about an hour from Abu Dhabi, had been chosen from five countries who submitted bids to host a rescheduled championship on Feb. 25.
"We didn't think it was going to be in UAE, out of the five possibilities [for host countries]," said Cheryl Van Deusen, a member of the U.S. teams at the 2018 FEI World Equestrian Games at Tryon (North Carolina) and the 2021 Longines FEI Endurance World Championship (Italy), who had been preparing to compete in Verona. "We were expecting [to compete in] March or April, we didn't think that they would take us to Abu Dhabi."
Considering the recent history of the sport in the UAE, whose national federation has been suspended twice in recent years (in 2015 and again in 2020) for major horse welfare concerns and running afoul of FEI rules, the idea of the country hosting an FEI championship initially met with considerable concern and skepticism. (In fact, the FEI removed the 2016 World Endurance Championship from Dubai because of horse welfare concerns; it was held in Samorin, Slovakia, instead.)
But Van Deusen, the sole member of the American team to finish at Butheeb, had high praise for the competition...
Read more here:
https://www.chronofhorse.com/article/van-deusen-sole-american-finisher-at-rescheduled-fei-world-endurance-championship