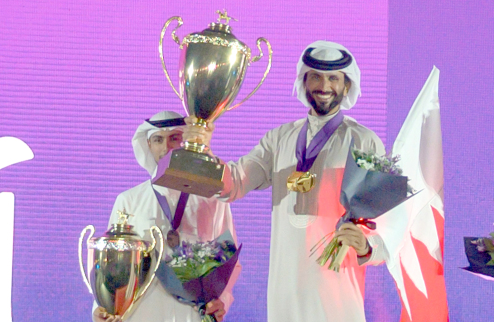 GDNOnline.com - Full Article
18 March 2023
His Majesty King Hamad's representative for humanitarian work and youth affairs and Royal Endurance Team captain Shaikh Nasser bin Hamad Al Khalifa has earned the world number one ranking for endurance sport following a series of notable achievements, including the World Endurance Championship title and the FEI World Endurance Championship for eight-year-old horses.
The International Federation for Equestrian Sports (FEI) has published the updated classification of riders and horses involved in the endurance sport at the regional and international levels, and Shaikh Nasser topped the podium after scoring 320 points, comfortably ahead by a wide margin of second-placed Portuguese Leonor Moreira who collected 248 points. Meanwhile, Royal Endurance Team's Jaafar Merza Abdulnabi Hassan came third with 245 points.
The ranking crowns the illustrious career of Shaikh Nasser in endurance sport...
Read more here:
https://www.gdnonline.com/Details/1207100/Shaikh-Nasser-bags-top-spot-in-FEI-endurance-world-rankings-