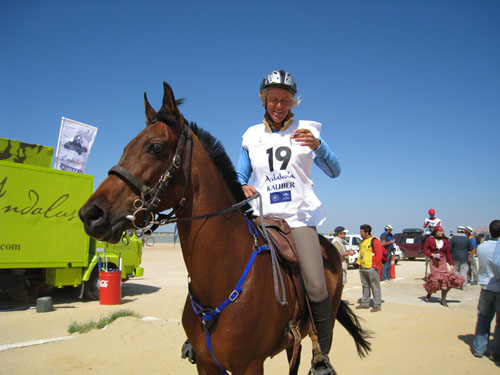 March 30 2008
by Steph Teeter
These days are long and busy, and the nights are short! We're not getting a lot of sleep... but I guess we're not here for sleeping :)
I rode today (in Spain!!!!), on a very nice mare - Arenales - owned by Fernando Uriartes - a friend of Paco. She's 8 years old, not very experienced, but lovely animal! Very trustworthy.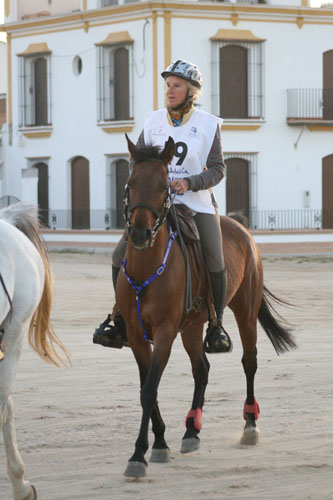 She about died from fright when we first got to the ocean - she'd never seen/heard the crashing waves before, and was galloping in place along beside Paco's trotting stallion Ibor. (There's a whole nuther experience - riding a mare in heat with a stallion all day…they were both very well behaved, but a lot of nickering and ear flicking and posturing, and I had to keep her from trying to stand for him whenever we stopped.) She was absolutely dripping sweat the first stretch of beach - with the crashing waves and the tourist hotels and kids and umbrellas and hotels and so much activity.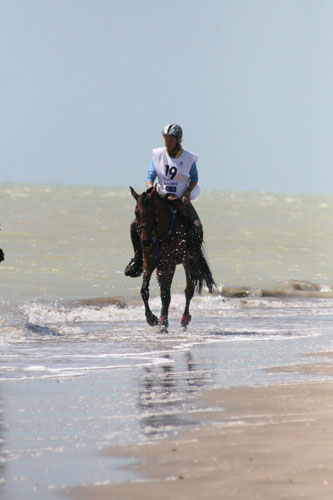 There was deep sand all day long - really a hard day. The first vetgate was on the beach at one of the main tourist areas - very windy, waves crashing, tourists being tourists, and the horses were all nervous, and took extra time to pulse down. Madonna and Fernando helped us at the vetgate - very welcome help!
After the first vetgate we had a 35 km (20 mi) ride along the beach. It was magnificent!!!! After we got past the tourist stretch, we entered the national park coastline. It was low tide, so we were able to ride in the shallows, with the birds flying up in front of us and crabs and ocean creatures scurrying underfoot. Arenales relaxed and started enjoying the water and the waves. It was wonderful. Paco's horse was tired - second day for him and so much deep sand, so we took it pretty slow all day, and finished last and almost last :)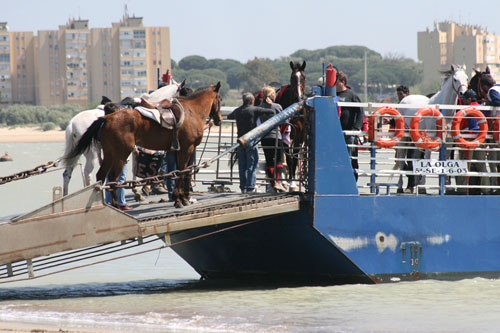 When we got to the final vetgate we had to load the horses, along with the last of the staff rigs onto a ferry and cross the channel to the other side, the town of San Lucas (southern Andalucia - almost to the Straights of Gibraltar - just across the water from Africa). What a hoot! The horses did pretty well, handling the sway of the ferry quite bravely (tired enough to not fuss too much).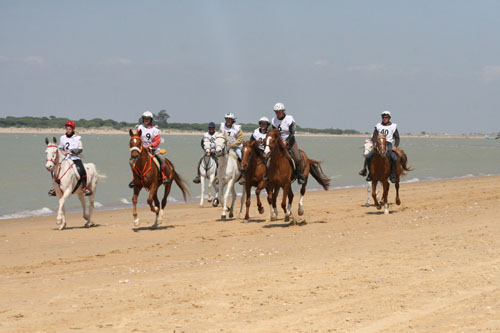 On the other side all of the horses were there waiting, and we were to all ride together the final 1.5km to the 'grand finish' for press and media. I felt sheepish about being so slow knowing that the others had been waiting for us (at least an hour, probably more). But everybody seemed happy and festive and we did the final ride.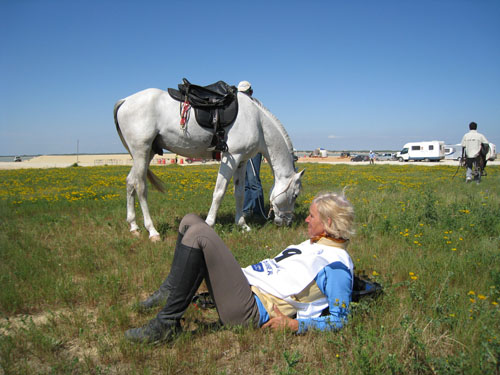 There was some wonderful manzanilla (a white fortified wine) at the finish, plenty of little cups to go around. We grazed the horses in a grassy meadow, full of yellow flowers, and then joined the group at the lunch for paella and some wonderful potato saucy dish with calamari. Spain has WONDERFUL FOOD. And the wine is good too :)
Tonight Merri and I stayed at the hotel, with internet, and worked instead of going to the briefing and awards. Too much to do, and so little time for work, it was nice to chill and little and get caught up.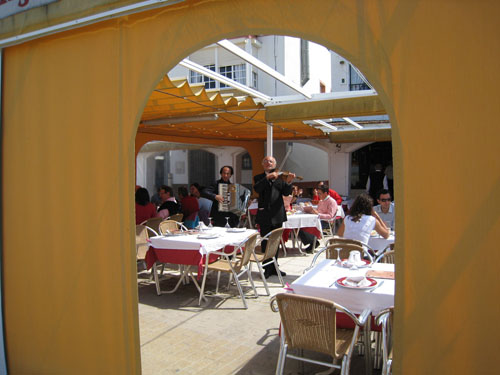 Tomorrow we're up for a 6am breakfast, will then go to the stables and I'll join up with Paco, Fernando, Texano (a Spanish rodeo guy who is helping crew... and he also sings great), and Madonna and Paul. I don't think Paco is going to ride tomorrow, so I'm not sure what the day will bring. Merri will go along with Nacio (nacho) again for a day of photos and adventure.
And now it's after midnight, time for bed!
Steph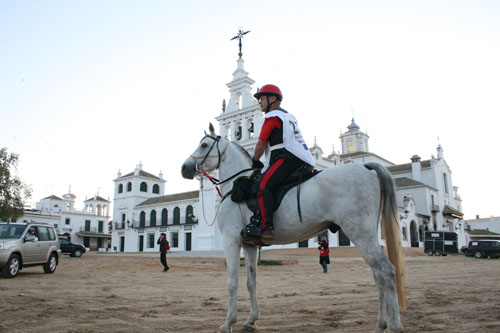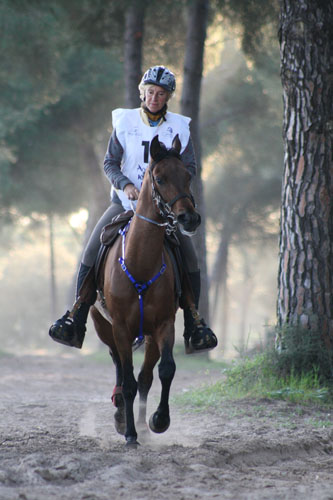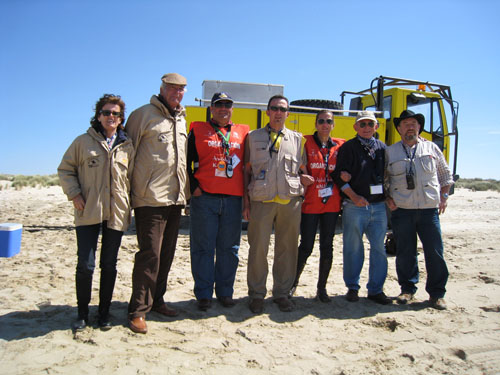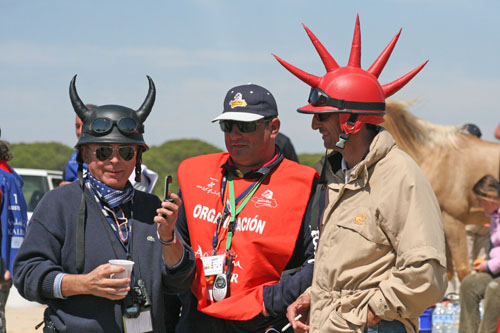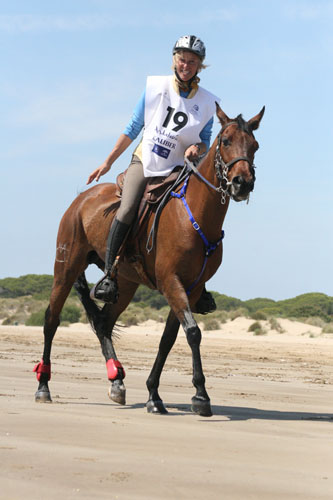 ______
Part I: The Travels is
here
Part II: Preparations is
here
Part III: Registration and a Prologue is
here