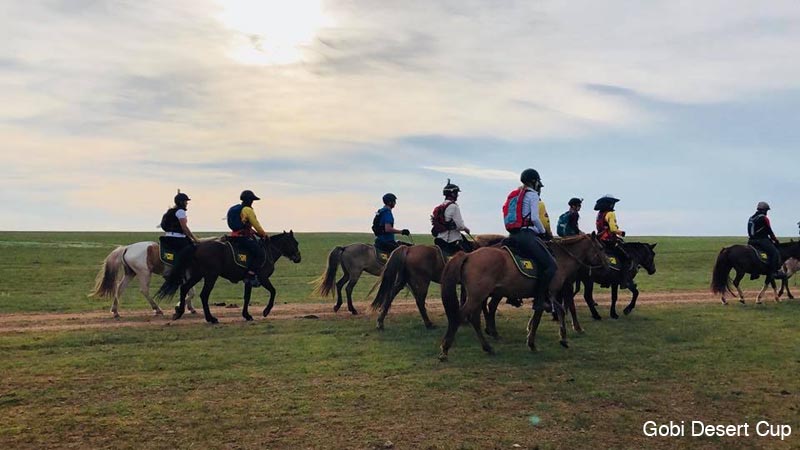 August 29 2018
Day 4:
We are here finishing the fourth day of the Gobi Desert Cup! Today has been the fastest ride yet and all 18 have stuck together through the day with all crossing the finish line within moments of each other.
We had a wonderful day in the national park with the riders enjoying the scenery, which included boulders and camels.
There was a slight hiccup when Stephanie Scott's rein loosened and she had to go with a single rein for a few kilometers but she did it with a laugh and grace as usual.
Just before the finish line the riders broke apart and went for the finish line and the points. Sadly, we had a few vet out due to heart rate because of this, including the first place finisher Mathilde S.
After getting the placing a for today are as follows:
Elodie
Tania
Claire
Amy
Ruth
Kasmira
Jeff
Bob
Christoph
Michael
Stephanie
Cele
Lorie
Howard
Jon
Vetted out due to heart rate:
Mathilde, Allan, and Pete.
The award for Best Managed Horse on Day 4 is Elodie Maillard! She had a very forward horse that would have galloped the entire track, however she managed to keep her horse at a stable pace and keep him healthy throughout. Congratulations on some great horsemanship!
Day 4 winner of the Best Sportsmanship award is Stephanie Scott! Stephanie had shown throughout the entire ride that she is positive no matter the pace, willing to help other riders, and today while losing a rein, laughed it off and patiently rode on while waiting for us to fix it on track. Congratulations!
Day 5:
Halfway update: we had some excitement this morning, when the horse ridden by Amy Eighteen came up lame on track before the 15km and had to withdraw on track. Not long afterward Cele Stone withdrew because her knees were bothering her again. It was determined that Amy would ride Cele's horse after vetting through and she would not compete for points.
Just afterward Bob Gauthier's horse, who was well in the lead, hit soft footing and came up lame, pulling them out at the 30km marker.
The vets have been very happy with how these horses are managed by our riders, and sadly the lameness is not uncommon because of the footing and the Mongolian horses' conformation and bare feet.
All other riders are traveling well so stay tuned!
Our first riders are in across the finish line! In a gallop to the end Jeff Stuart (US) edged out Elodie Maillard (FR) and Amy Eighteen (AUS) by a nose! We had a hot day over open terrain here in Mongolia, with a nice view of the Trans-Siberian Railroad! We had 15 riders over the finish line today, with one withdrawal on course due to sore knees and one vet out due to lameness. All horses and riders will be okay, and lots of smiles all around!
Congratulations to Claire McManus on winning Best Managed Horse for Day 5!
Claire has shown she always puts her horse first over the course of this week and please join us in congratulating her!
Many congratulations to Lorie Duff on winning Best Sportsmanship on Day 5! Lorie is not an endurance rider, and has done many things outside her comfort zone this week, including powering through a sore knee to ride and raise money for the CHEO Foundation at home. All with a smile on her face and no complaints. Congratulations Lorie!
More at:
http://www.endurance.net/international/Mongolia/2018GobiDesertCup/